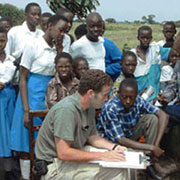 Brian Butler, DVM, MPH
Graduation Date: 2005
United States
Brian Butler's early career is a true testament to the opportunities and impact made available with a dual DVM/MPH degree from St. George's University. Brian has recently returned from a second visit to Africa, a world away from Missouri where he was born, raised and attended undergraduate school.
He was first introduced to the people of Western Uganda through a grant funded by the Windward Islands Research and Education Foundation (WINDREF), an independent research and education institution based at St. George's University's True Blue campus.  As part of a project set up by WINDREF Director Dr. Calum Macpherson, Brian spent ten weeks among the Bsongoro people researching the effects of cystic echinococcosis (CE), a global zoonotic parasitic disease with human and livestock incidence.
CE is common in many East African pastoral peoples, but has never been investigated in the specific Bsongoro community.  It is transmitted most commonly from dogs, but is thought that wild carnivores play a significant role in the transmission of the disease as well.  Brian worked with a local wildlife veterinarian, tagging and tracking lions and hyenas, and documenting the relationship between wildlife and the local people.
As a result of his work, which satisfied the practicum for the MPH degree, Brian received funding from the National Institutes of Health to continue his study of the physiological and pathological similarities and differences between diseases in humans and animals as he pursues his PhD in Comparative Pathology at the University of California, Davis.
Brian returned to Uganda this past summer to attend a one-month course where he studied and worked along side African colleagues in an effort to uncover solutions to Africa's most challenging infectious diseases, most specifically pediatric malaria.  After he completes his PhD, he hopes his career pursuit in tropical medicine and tropical diseases will continue to offer opportunities to visit many more wonderful and exciting places.
Brian credits St. George's University for offering the unique opportunity to attain both his DVM and MPH simultaneously, an opportunity which broadened his exposure to the field of research and its global application in public health and guided his current path, of which he is most proud.   He looks forward to one day returning to Grenada and making a contribution to the research and veterinary public health programs at St. George's University.
Published October 2009
Find out if St. George's University is right for you.
https://www.sgu.edu/wp-content/uploads/2020/02/sgu-logo-grenada.svg
0
0
Erin Shaw
https://www.sgu.edu/wp-content/uploads/2020/02/sgu-logo-grenada.svg
Erin Shaw
2016-12-16 20:15:42
2021-01-29 16:53:59
Brian Butler, DVM, MPH