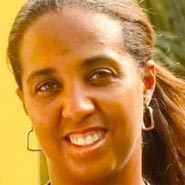 Brigitte Assing, MBA
Graduation Date: 2012
Grenada
Brigitte Assing and her colleagues shared a moment of joy this past spring. Having worked tirelessly to complete St. George's Master of Business Administration program, the charter class graduated with their MBA in International Business.
Assing, who owns and operates Charcoals Caribbean Grill in Lance aux Epines, had only one regret—that she didn't get her MBA sooner. It has made a world of difference.
"In retrospect it would have been great to have gotten it prior to opening the restaurant," Assing said. "What I learned in the MBA program would have helped a lot. There are so many things that we probably wasted money on thinking we were doing the right thing."
She and her husband Mark had always dreamed of opening their own restaurant and in 2009 Charcoals welcomed its first customers. Located approximately 1.5 miles from the St. George's University campus and boasting an affordable menu of items that includes a mix of burgers, sandwiches, seafood, salads and more, Charcoals quickly became a popular spot among residents and St. George's University students. They had their niche—tasty yet affordable fare.
"There are quite a few restaurants that are in a higher price bracket so we decided to offer healthy grilled food at affordable prices for families and students who are looking for a good value when eating out," Assing said.
However, despite some early success, Brigitte soon learned that opening a restaurant and creating the menu were the least of the challenges she would face. Keeping the books, developing and launching an effective marketing program, and growing a loyal following made her realize that she needed some training in these areas if she was to make her family business a success. In 2010, she set off to earn her Master of Business Administration and in June 2012 was part of the charter class of MBA graduates from SGU.
"I had always wanted to get my MBA, but I just never had the opportunity. I thought it would be difficult to balance my studies with family and work, but SGU's online format made it easier for me to accomplish my goals, "Assing said. "I realized that SGU was offering a great opportunity. I went forward with the degree and have never regretted it."
The MBA program charter class included nearly a dozen students from around the world. Despite the online format, members of the charter class grew to become friends after meeting each other in Grenada during one of the residency weeks held at the beginning and end of the degree track.
"Even though we rarely met in person, we did meet often via our computer screens so I got to know my classmates and enjoyed working with them on projects," said Assing, who graduated with a 4.0 grade point average.
"It was wonderful being able to graduate with my team," she continued. "We were all so proud to still be together. We had worked so hard over the past 18 months and could now point to our accomplishment."
Since graduating from Florida International University with a Bachelor of Science degree in hospitality and business management in 1991, Assing has spent more than 20 years in the field of business in management positions. She worked for nine years at Spice Island Beach Resort, and then in 1999, she joined Woodlands-based Creative Design Building Construction Co., Ltd., as an administrative manager and was promoted to procurement and administrative services manager in 2005. In that position she developed and managed the administrative department and its budgets, oversaw all overseas and local procurement and distribution of all construction materials, including all new and ongoing construction projects at St. George's University. During this period she was specifically involved in the rebuilding of SGU after Hurricane Ivan ravaged the campus in 2004.
Since 2009, Assing has been a business and hospitality guest lecturer at St. George's University School of Arts and Sciences. She is also on the board of directors at her alma mater, Westmorland Secondary School in Grenada. She and her husband of 17 years live in Lance aux Epines and have one daughter.
Published October 2012
Find out if St. George's University is right for you.
https://www.sgu.edu/wp-content/uploads/2020/02/sgu-logo-grenada.svg
0
0
dbriggs
https://www.sgu.edu/wp-content/uploads/2020/02/sgu-logo-grenada.svg
dbriggs
2016-07-12 16:16:01
2021-01-20 20:02:49
Brigitte Assing, MBA