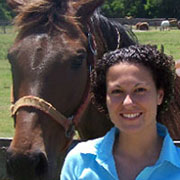 Carolina Ortiz-Umpierre, DVM, CVA, CVH
Graduation Date: 2005
United States
It was at the very young age of 10 that first-generation American Carolina Ortiz-Umpierre knew that she was meant to be a veterinarian. While visiting family in Venezuela, a family cat was choking on a chicken bone and Carolina immediately leapt to its rescue. Her family was amazed by her quick reaction time and ability to dislodge the bone from the cat's throat, and so what had been a "little girl's fantasy of playing with puppies and kittens" revealed itself as her true calling. She went on to earn her associate's degree in biology from Broward Community College in Davie, FL, and her bachelor's degree in the same discipline from Florida Atlantic University in Boca Raton, FL. Walking to class one day she spotted a poster advertising St. George's University School of Veterinary Medicine. She applied, was accepted, and embarked on "the best four years of [her] life."
She notes with much enthusiasm the beauty of Grenada and the advantages of attending school there: "It is so full of life. It is a great place to go to school because there are not too many distractions, but there are plenty of rewards." The rewards are something of which Dr. Ortiz-Umpierre is well aware, as she not only received a "hands-on experience and high level of education," but met her future husband, a fellow veterinary medical student, while on the Island.
The ability to attend a different school for her final clinical year proved to be another life-changing experience for Dr. Ortiz-Umpierre. While at the University of Florida she took a certifying course in veterinary acupuncture, which she had become interested in while working as a veterinary technician prior to attending veterinary school. Upon graduation, she began an internship in acupuncture, also at the University of Florida, in the only program of its kind in the US. During her internship she worked under Dr. Huisheng Xie, a pioneer of veterinary acupuncture in the US. She became certified in Chinese herbal medicine and Tui Na, a form of Chinese massage. Since then, she has become a professor at the Chi Institute of Chinese Medicine which is a school that teaches veterinarians Traditional Chinese Medicine.
Upon completion of her groundbreaking internship, Dr. Ortiz-Umpierre worked as an associate veterinarian in a small animal practice where she was able to integrate Western and Eastern medicine: "I would perform a surgery on a patient and then use acupuncture for post-operative pain management." She found this job to be rewarding, but wished to practice solely Traditional Chinese Veterinary Medicine (TCVM). An opportunity arose when the University of Florida opened a new clinical assistant professor of acupuncture position. She will begin to practice alongside her former mentor Dr. Xie in January 2008. It is her goal to execute research in the area of TCVM in order to prove its clinical and therapeutic effects.
To further her goals, she and a group of TCVM practitioners began the American Journal of TCVM, which is the first of its kind in the US. She currently serves as co-editor-in-chief. Their mission is to promote evidence-based scientific research in the field of TCVM because "many practice TCVM and get great results, but as scientists would like to know from a pathophysiology perspective just how acupuncture works."
Dr. Ortiz-Umpierre notes that she is eligible for the same opportunities as graduates of US veterinary medical schools, and was well prepared for her clinical year and national and foreign-graduate board exams. She is "forever grateful" to SGU for giving her the opportunity to fulfill her lifelong dream, and also meet her lifelong partner.
Find out if St. George's University is right for you.
https://www.sgu.edu/wp-content/uploads/2020/02/sgu-logo-grenada.svg
0
0
Erin Shaw
https://www.sgu.edu/wp-content/uploads/2020/02/sgu-logo-grenada.svg
Erin Shaw
2016-12-16 20:23:01
2021-01-29 17:03:20
Carolina Ortiz-Umpierre, DVM, CVA, CVH