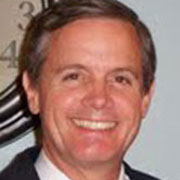 Chauncey Thuss Jr., MD
Graduation Date: 1984
United States
St. Vincent's Occupational Health Clinic
Occupational Medicine
For Dr. Chauncey Thuss, occupational medicine has been in his family for nearly a century—first his grandfather, then his father and uncle, and now he carries the torch as medical director at St. Vincent's Occupational Health Clinic, the largest provider of occupational medicine in downtown Birmingham, Alabama.
"What I like that you really get a good feeling of what's going on in the city because I'm talking to and treating all these different people," Dr. Thuss said.
Thuss's grandfather, William G. Thuss, started Thuss Clinic in 1924, one of only three industrial medicine clinics in the southeastern United States, and the family ran the business through 2008. Dr. Thuss served as the physician, medical director and partner for Thuss Clinic and Thuss Medical Group for more than two decades before joining Gadsden Regional Medical Center's Occupational Health Center beginning in September 2008. In July 2012, he was appointed to the medical director position at St. Vincent's.
Dr. Thuss classifies occupational medicine, which relates to workplace injuries, a cross between internal and emergency medicine. He treats injuries that occur in the workplace, anything from strains and lacerations to broken bones.
"You never know what's going to come at you," Dr. Thuss said. "It isn't quite as hectic as an emergency room but it's right up there with it."
In addition, he has owned and operated Absolute Drug Detection Services, a third-party drug test administrator with multiple terminals around the US, for more than two decades. He had long performed such tests at Thuss Clinic, and business boomed when the Drug Free Workplace Act made them a requirement for certain federal organizations in 1988 in an effort to create a drug-free environment.
Dr. Thuss was also one of the first 75 certified medical review officers (MROs) in the country and has co-chaired the Drug and Alcohol Testing Industry Association (DATIA) and is a Board Member of the Substance Abuse Program Administrators Association (SAPAA) and certified by, and a member of, the American Association of Medical Review Officers (AAMRO). He was also one of the first Certified Medical Examiners under the newly created National Registry for Certified Medical Examiners (NRCME), a registry of medical providers that administers mandated Department of Transportation physical examinations.
Although he grew up in Birmingham, Dr. Thuss obtained his Bachelor of Arts in biology from Boston University in 1978, and he went on to complete postgraduate training in natural sciences and mathematics from the University of Alabama at Birmingham before enrolling at SGU. After two years in Grenada and two more at Kent and Canterbury Hospital in the UK, Dr. Thuss earned his MD before completing his internal medicine residency at St. Luke's Hospital in Cleveland, OH. He treasures the opportunity to have studied in a variety of locations in the US and UK.
"Some people join the Navy to see the world," Thuss said. "I say go to medical school to see the world."
The basic science years tested his mettle, with many long nights put in, but in between study time, Dr. Thuss still managed to enjoy all that the island had to offer.
"One time I wanted to go out on the beach so badly but I couldn't because I was getting ready for a test that was coming up, and I remember a guy told me 'don't worry about it, it's going to be beautiful tomorrow too,' " said Dr. Thuss. "And that was true. Every day was another day in paradise."
Published April 2013
Find out if St. George's University is right for you.
https://www.sgu.edu/wp-content/uploads/2020/02/sgu-logo-grenada.svg
0
0
Erin Shaw
https://www.sgu.edu/wp-content/uploads/2020/02/sgu-logo-grenada.svg
Erin Shaw
2016-12-16 20:26:05
2021-01-29 17:36:23
Chauncey Thuss Jr., MD