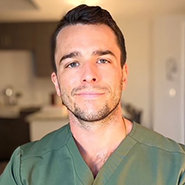 Chris Reilly, MD
Graduation Date: 2020
United States
Brandon Regional Hospital
Emergency medicine
What's it like to be an emergency medicine resident?
In a 2020 takeover of St. George's University's Instagram page, Chris Reilly, MD '20, unveiled what life is like as a PGY-1 in emergency medicine at HCA's Brandon Regional Hospital in Brandon, FL.
Dr. Reilly also answered viewers' questions in a follow-up live Q&A for which he addressed topics like:
Why he chose emergency medicine as a specialty;
Tips to help students secure an EM residency;
How to study and be successful in med school; and
Opportunities for personal and professional growth in emergency medicine.
His biggest piece of advice for students? Keeping an open mind about what specialty to enter.
"You're going to have so many different experiences from first year through fourth year," Dr. Reilly said. "Really try to enjoy every rotation you are on and try to really envision yourself being in that specialty because that will give you perspective. If you can have an appreciation for and perspective for that specialty, then it was a successful rotation."
The Instagram Q&A has been viewed by more than 2,300 people as of early December.
Find out if St. George's University is right for you.
https://www.sgu.edu/wp-content/uploads/2020/02/sgu-logo-grenada.svg
0
0
bpmauser
https://www.sgu.edu/wp-content/uploads/2020/02/sgu-logo-grenada.svg
bpmauser
2021-02-08 22:25:34
2021-02-08 22:27:43
Chris Reilly, MD