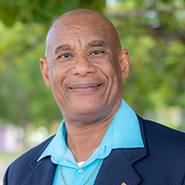 Damian Greaves, MPH
Graduation Date: 2010
Grenada
Department of Humanities and Social Sciences, St. George's University
Assistant Professor
When Dr. Damian Greaves changed course in his career, switching from politics to academic, he had always intended to return. But more than 15 years into his time as an educator at St. George's University, he has reveled in the opportunity to pass on his knowledge to future leaders in Grenada and throughout the Caribbean. 
"When I teach, I am on top of the world because it is not just a job, it is a vocation—to inspire and mold minds," said Dr. Greaves, a professor in the Department of Humanities and Social Sciences. 
He came to St. George's University in 2006 after spending five years as the Minister of Health in St. Lucia, first serving as a part-time lecturer while working on a Master of Public Health (MPH) from SGU, and a Doctor of Philosophy (PhD) at Walden University.  
"Leveraging on various experiences gives a broader view on what is happening, and therefore translates to a more panoramic and rigorous analysis of matters that may come to my attention," said Dr. Greaves. "It also gives you a more global prospective."
Roles Run the Gamut
Even with all of his roles at SGU, he traveled to St. Lucia monthly to attend parliamentary sessions. All told, the former Minister served 15 years in politics, including three as senator, for which he led the opposition in the House. Dr. Greaves was also Minister for Culture and Community Development. His passion for culture led him to write songs, own a Carnival band, and participate in calypso competitions.  
Nevertheless, Dr. Greaves remained at SGU as an instructor, teaching Social Sciences and Medicine to premedical and preveterinary students, as well as sociology courses such as Race, Class and Gender; Caribbean Social Structure; Caribbean Government and Politics; and Introduction to Political Science. 
"When you are teaching, you have to be well read. One of your toolkits is to continue to research and read, particularly in this ever-evolving technical age." Dr. Greaves said. "If you're a sociologist and you don't have a working knowledge of economics, political science, other areas of social sciences and even outside of those, your analysis will be the limited because you must engage other subject matters that impact what you're interrogating." 
He also leads a very active campus life, serving as president of the School of Arts and Sciences Senate as well as the University Senate. He is also a member of various committees such as the Graduate and Undergraduate Committees, Accreditation Committee, and SGU IRB; a body with a mandate to review the content of research studies. 
Outside of SGU, Dr. Greaves is the director of the Healthy Caribbean Coalition, sits on the National Advisory Board for National Health Insurance, and is chair of the Grenada National Commission on Non-Communicable Diseases, a position he has held since 2017. Dr. Greaves is also writing his first book, which focuses on health management in the Caribbean.   
Published February 2021
Find out if St. George's University is right for you.
https://www.sgu.edu/wp-content/uploads/2020/02/sgu-logo-grenada.svg
0
0
bpmauser
https://www.sgu.edu/wp-content/uploads/2020/02/sgu-logo-grenada.svg
bpmauser
2021-02-04 18:33:35
2021-02-04 18:36:12
Damian Greaves, MPH