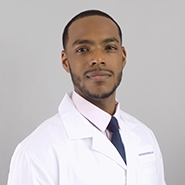 Denzil Etienne, MD
Graduation Date: 2012
United States, Grenada, Venezuela
The Brooklyn Hospital Center
Gastroenterology Attending Physician
Undergrad: St. George's University
Residency: Internal Medicine, SUNY Upstate Medical University
Fellowship: Gastroenterology, The Brooklyn Hospital Center
You grew up in Brooklyn and did much of your medical training there as well, including most recently as a gastroenterology fellow at the Brooklyn Hospital Center. How much did that background play a role in your decision to stay on as an attending physician?
Brooklyn Hospital is a great place to work. There's great diversity in New York City. The people are quite friendly and grounded, which is important when you're spending long days here and it's one of the main reasons I stayed. I also stayed to be in an academic position, figuring 'what better place to practice than the place in which I was taught?' We have a number of fellows on the floors and with us during procedures, so there's quite a bit of teaching and mentoring that happens each day. That's the nature of the position, and it is extremely rewarding each day."
What has the transition from fellow to attending been like?
Whereas a fellow is usually concentrated on the nitty gritty of a clinical case, an attending is responsible for that in addition to various social, administrative, and financial factors surrounding it. I have found that once you understand the medical aspects, the rest falls into place. There was some trepidation to remain in a program where I did my fellowship, but the process has been quite a natural transition for me. As a mentor, it's rewarding when you're doing procedures with a fellow, and you see significant progression in skill level over the course of a few weeks or months.
How did your upbringing shape your future as a physician?
I was born in Venezuela, and spent my formative years both in Grenada and Brooklyn. Growing up in each place really grounded me. Health care in Grenada is quite different than the US. However, as is the case in many parts of the world, both places are have groups of people with less access to specialized medical services. That was one of the driving factors in my decision to become a doctor and later to become a gastroenterologist. It's important to me, as a physician, to give back and serve people who would otherwise not have access to specialty medical care.
During my fellowship and now as an attending, I've focused a great deal on colon cancer screening and awareness. There really is a lack of it in many parts of the world. We need to remedy that because, while colon cancer can be a devastating disease if caught in its later stages, it is also quite preventable.
I have to thank one of my mentors, Dr. Marios Loukas, who helped form the research fellowship in Grenada. I was part of the first class there and that experience was very beneficial and a nice launching pad into residency and even further into fellowship.
Was becoming a gastroenterologist always the end goal for you?
Not at all. I grew up playing the saxophone and piano, so at one point I thought I was going to be a jazz musician. Eventually though, there was a stronger calling to humanitarianism which guided me to pursue medicine.
At the start of my residency I thought I wanted to become a primary care physician, working in the community. I gradually realized that what I enjoyed more was being an authority on one particular field of medicine, which in this case was gastroenterology. What's great about gastroenterology is that it isn't monotonous. For me, I sometimes do consulting rounds on the medical floors and see office patients in the morning and focus on procedures in the afternoon. There is never a dull moment.
What advice would you give to a student who is just beginning his or her studies at SGU?
I encourage them to keep an open mind about the academic and cultural experience that SGU affords. In addition to focusing on their studies, I would try to immerse myself in some of the different activities that are happening everyday on campus. It is also important to forge long-lasting mentoring relationships and friendships that help you grow as a person and eventually factor into you becoming a great physician.
Published October 2018
Find out if St. George's University is right for you.
https://www.sgu.edu/wp-content/uploads/2020/02/sgu-logo-grenada.svg
0
0
bpmauser
https://www.sgu.edu/wp-content/uploads/2020/02/sgu-logo-grenada.svg
bpmauser
2018-10-29 21:18:23
2021-02-02 14:47:20
Denzil Etienne, MD