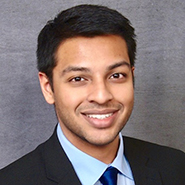 Dhruv Gupta, MD
Graduation Date: 2018
India
Icahn School of Medicine at Mount Sinai (Elmhurst Hospital)
Psychiatry Resident
Over the course of your life, you have lived in every corner of the globe. How has that experience shaped you as a physician and as a person?
"My father works in the oil industry, so every couple years we moved around. I've lived in India, Thailand, Venezuela, the US, Canada, Bangladesh, the UK, and Grenada. Living abroad has helped me because it's taught me how to be adaptable and work with people from different backgrounds, cultures, and religions. When I meet individuals from cultures different from mine, I feel that I know how to work with them because of the varied experiences I've had communicating with others and thinking through challenging situations. My ability to readily adapt helps on the floors because I'm able to work with patients and establish a rapport with them no matter where they come from. Moreover, as a product of living in Venezuela, in addition to it being one of my undergraduate minors, I became fluent in Spanish. It helps tremendously in communicating with Spanish-speaking patients."
How did your upbringing carry into your experience at St. George's University?
"With my international upbringing, I was drawn to and enrolled in the St. George's University Of Grenada School Of Medicine/Northumbria University Four-, Five- and Six-Year MD Program (formerly the Keith B. Taylor Global Scholars Program). England was a wonderful experience, and between basic sciences and clinicals, I really enjoyed living and learning in three different countries. Also, I was able to participate in the India selective in Karad, during which we really got to see the challenges that some physicians have to overcome to provide health care for their patients. It's a situation in which you're really asked to step out of your comfort zone."
Why have you chosen psychiatry for your career path?
"I'm really passionate about psychiatry and looking forward to going deeper into the field. Various encounters in my life have led me to question what motivates human behavior. It's a lifelong passion of mine based on my experiences. Community mental health care is often stigmatized. There are many misconstrued conceptions. I really want to provide quality psychiatric care, but also to treat a person holistically, with deeper biological, behavioral, and social influences in mind."
You actually accepted the psychiatry residency position at Mount Sinai Elmhurst well before Match Day. How did that come about?
"Less than a day after I interviewed there, I received an email from the program director indicating that they really liked me and would like to offer me a position in their program. I was really surprised because I didn't know that was something that they could do, but it was very relieving. I'm excited for the opportunity."
Days after officially becoming a doctor, you attended to a patient experiencing an in-flight emergency. What role did you play in her treatment?
"I was headed to India with my mom for a few days, and shortly after takeoff from London, a medical emergency was called onboard. There was a loud thud in the bathroom followed by a page for physicians on board. A passenger had collapsed in the bathroom and was found unresponsive. I initially wondered if there was anyone with more experience—I had just graduated—but I explained that I could tend to her, relying on the knowledge and skills I have gathered over my SGU career.
First, I checked to see if she had a pulse, which she did. We helped get her to the closest seat possible, took her blood pressure, wiped her face with water, and tried communicating with her. She eventually became aware of her surroundings. Her blood pressure ended up being low and her heart rate elevated, and when I examined her, I noted that her tongue was dry, and that she was severely dehydrated. When I began to speak to her, she explained that she had only had a cup of coffee that day, and when she was in the bathroom, everything had gone dark in front of her and she collapsed. I went on to listen to her heart and lungs. We were able to stabilize her with electrolyte solutions available in the first-aid kit, and restricted any further caffeine and/or alcohol consumption over the course of the flight. As the flight continued, we continued to monitor her and make sure she was feeling better.
It was a big moment for me because it was my very first unsupervised clinical experience. I'm incredibly thankful to SGU for the knowledge and skills that they have provided me that helped me attend to the situation onboard, and moreover, for making my dream of becoming a physician a reality."
Published June 2018
Find out if St. George's University is right for you.
https://www.sgu.edu/wp-content/uploads/2020/02/sgu-logo-grenada.svg
0
0
bpmauser
https://www.sgu.edu/wp-content/uploads/2020/02/sgu-logo-grenada.svg
bpmauser
2018-06-07 20:41:34
2021-01-28 20:09:05
Dhruv Gupta, MD