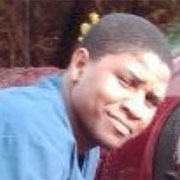 Elly Masitha, DVM, MPH
Graduation Date: 2011
Botswana
Elly Masitha—originally from Bobonong, Botswana—pursued his Bachelor of Science degree at the University of Botswana. However, because the University did not offer veterinary programs, and in order to fulfill his dreams of becoming a veterinarian, he decided to leave his homeland to finish his education. Elly always had an interest in veterinary medicine, having spent time taking care of animals on small farms throughout his life. His ambition led him to St. George's University Preveterinary Program. Upon successful completion of the one-year program, Elly enrolled in St. George's School of Veterinary Medicine.
Elly had many reasons for selecting St. George's University as the best option for him, not the least of which is the location of the campus. The True Blue campus is indeed an academic paradise. Secondly, the international aspect of the University was appealing because he would meet students from other countries around the world. Lastly, Elly explained, "The school offered me the dual degree option (DVM/MPH) and for me it was all I needed to know to go there. When I go back home to Botswana, my Master of Public Health and Doctor of Veterinary Medicine degrees will be an advantage to my country and my people. Once I decide to go home I can take back that experience."
Upon arriving to Grenada, Elly recalled, "The people of the island were so welcoming and friendly that it made me feel like I was home." It was his first time seeing the beach and he also happened to come during one of the biggest celebrations in Grenada—Carnival! He recalls, "I met people from different parts of the world—the Caribbean, Africa, United States, and Canada. I made friends with students from different parts of Africa who I may have otherwise never met."
In regard to academics, Elly commented, "The professors did a very good job. They tried their best and offered so much of their time and were always available for extra help." Now that he's about to receive his DVM degree, Elly can provide some direction for prospective students who are applying to graduate schools. He advises, "On the island you come to work hard and you should work hard, but also enjoy the island and don't put yourself under too much pressure. Work hard and have fun!"
He recommends the University without hesitation. "St. George's University is the best school to can prepare you for whatever career you want to choose." He currently resides in Edinburgh, United Kingdom where he is completing his final year of clinical training. Elly's dreams include being involved in research, although he is uncertain if he going to pursue further education. While he expects to earn his DVM in June 2011, he recently earned his Master of Public Health degree from St. George's University in May 2010. While Elly may return to his native Botswana upon receiving his DVM, he would like to return and visit Grenada as well.
Published October 2009
Find out if St. George's University is right for you.
https://www.sgu.edu/wp-content/uploads/2020/02/sgu-logo-grenada.svg
0
0
Erin Shaw
https://www.sgu.edu/wp-content/uploads/2020/02/sgu-logo-grenada.svg
Erin Shaw
2016-12-16 21:08:46
2021-01-29 18:52:16
Elly Masitha, DVM, MPH