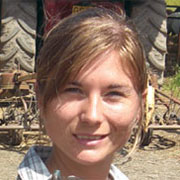 Emelie Fogelberg
Graduation Date: 2010
Sweden, Spain, United Kingdom
Dr. Emelie Fogelberg has lived and traveled throughout Europe. She was born in Gothenburg, Sweden, and raised in Spain. She always loved animals and by her teenage years had firmly decided to pursue a career in veterinary medicine. After spending a year studying in London, Emelie enrolled in the University of Edinburgh, Scotland, to pursue a Bachelor of Science in biological sciences.
Emelie was applying to schools in Europe when she heard about St. George's University and began to research the School of Veterinary Medicine. "Once I found out about St. George's University, it was my first choice," she explains. "It was more exciting than school in Sweden or the United Kingdom…I take pleasure in traveling and exploring new cultures which is the reason why I went abroad for my studies."
In 2008 Emelie enrolled in the four-year Doctor of Veterinary Medicine program. There were a mix of emotions— excitement and fear—about a place that was unknown and new to her. After three years studying in Grenada, Emelie completed her final clinical year at the Royal Veterinary College in London—one of St. George's 29 veterinary affiliates around the world. There she was able to interact with students from a number of veterinary schools and compare her experience at St. George's to that of her peers. Emelie discovered, "In comparison to other schools in the United Kingdom, St. George's is more than up to par. We get more practical experience. We have professors who come from all over the world to teach us, and they are specialized in their fields."
During her time in Grenada, Emelie took part in the biannual One Health One Medicine Vaccination Clinic where veterinary and medical students would join forces to provide services to the local population and their pets. "Dogs and cats got a general physical exam, were vaccinated against rabies and de-wormed and deflead as needed," Emelie describes. "It was very rewarding being part of this as the locals were very appreciative for what we were offering them and their pets. It gave us students a chance to apply our knowledge to real cases at an early stage in our education."
Emelie had no trouble adjusting to life in Grenada. She explains, "Being a bit adventurous, in Grenada I got the opportunity to climb Mount St. Catherine, attempted kite surfing and went sailing around the Caribbean islands." In addition, she played for the women's football team and joined Student Affiliation of the American Veterinary Medicine Association (SAAVMA) to help in fund raising, wet labs and socials events. In fact, she says, "I loved every minute I was there and I was really sad when I left." Emelie left Grenada with life-long friends that she can now visit all around the world.
In 2010, as an honorary member of the Phi Zeta Society, Emelie graduated from the School of Veterinary Medicine and passed the Royal College of Veterinary Surgeons (RCVS) Statutory Membership exam on her first attempt.
Now a registered member of the RCVS, she is more than content with her new position as a General Practitioner in southwest London. In the near future, Dr. Emelie Fogelberg plans to get certified in small animal surgery as well as spend a few months in Africa working on a wildlife reserve.
Published February 2011
Find out if St. George's University is right for you.
https://www.sgu.edu/wp-content/uploads/2020/02/sgu-logo-grenada.svg
0
0
Erin Shaw
https://www.sgu.edu/wp-content/uploads/2020/02/sgu-logo-grenada.svg
Erin Shaw
2016-12-16 21:12:49
2021-01-29 18:53:38
Emelie Fogelberg