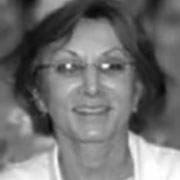 Emily Iker, MD
Graduation Date: 1981
Czechoslovakia
As the founder and director of the Lymphedema Center in Santa Monica, California, Dr. Emily Iker's dream of becoming an accomplished physician has been recognized many times over, touching and changing the lives of thousands. Dr. Iker is a woman who has surmounted immense challenges, never losing focus of her goal. Her resolve and inner strength is matched only by kindness and humility, as she lauds those who have helped her achieve her lifelong dream of practicing medicine.
Her journey has by no means been easy. Born in Czechoslovakia, Dr. Iker's potential went unrecognized and unsupported by the very people who should have been keenly aware of her gifts. She was told that she was not "university material" by a high school teacher. Dr. Iker's relentless determination, on which she has often relied throughout her personal and professional life, enabled her to push forward toward her ultimate goal.
In 1973, she enrolled in the preclinical program at the University of California Los Angeles and worked in a private orthopedic office to help pay her tuition. During that time she discovered that she had lymphoma. Determined to not let the disease interfere with her studies, she finished her chemotherapy and graduated from UCLA simultaneously.  She had seen an article in the newspaper about an English language medical school in Grenada. After researching the program, she applied and was accepted in 1977, thus becoming a member of the second class to enter SGUSOM.
After graduation, she interned at St. Clare's Hospital and Health Center in New York.  She remained in New York as a surgical resident at Cabrini Medical Center for two years.  During that time, Dr. Iker, having beaten cancer, developed lymphedema—a chronic condition which results in extreme swelling of the limbs. It is the effect of the accumulation of fluid and other elements, such as proteins in the interstitial tissue arising from congenital malfunction of the lymph system or damage to lymph vessels or lymph nodes. Lymphedema is a condition commonly seen in cancer patients.  Dr. Iker's resolve gave her the strength to fight through the daily struggles with pain and fatigue. After much consideration, she decided to change her medical specialty from surgery to rehabilitation and completed her physical medicine and rehabilitation residency at New York Medical College.
From 1987–1992, Dr. Iker returned to California to work with Dr. Robert Watanabe, a prominent Orthopedic Surgeon in West Los Angeles. As his associate, she specialized in the area of rehabilitation for sports medicine both pre- and post-surgery. Dr. Watanabe would become "the most influential individual in her professional life," said Dr. Iker, providing the guidance and motivation that would lead her to her life's work in the study of lymphedema.  During those years, Dr. Iker struggled to find assistance with her condition. She was struck by the lack of information and treatment options available for lymphedema. In 1992, with the encouragement of her mentor, Dr. Watanabe, she opened the Lymphedema Center in Santa Monica.  Sadly, Dr. Watanabe passed away from lymphoma later that year, the same disease Dr. Iker battled 15 years earlier.
As director of the Lymphedema Center, Dr. Iker focuses on diagnosis, management, and treatment of lymphatic disorders. Dr. Iker is now the President of the American Society of Lymphology. She is board certified by the American Boards of Holistic Medicine and is a staff member of Santa Monica – UCLA Medical Center. Dr. Iker teaches and lectures nationally and internationally, and is not only the director of the Lymphedema Center but a patient as well. A few years ago, Dr. Iker married a business man whose flexible schedule enables them to travel the world together on her extensive lecture tours.
As a youth in Czechoslovakia, Dr. Iker spent many years as a gymnast conquering the balance beam. She believes her perseverance is rooted in those years where she first learned the importance of falling and getting right back up. Dr. Iker equates much of her career path to walking on the balance beam, having gracefully stood up to demonstrate a determination which each day benefits the lives of others.
Published May 2010
Find out if St. George's University is right for you.
https://www.sgu.edu/wp-content/uploads/2020/02/sgu-logo-grenada.svg
0
0
Erin Shaw
https://www.sgu.edu/wp-content/uploads/2020/02/sgu-logo-grenada.svg
Erin Shaw
2016-12-16 21:15:14
2021-01-30 03:39:42
Emily Iker, MD