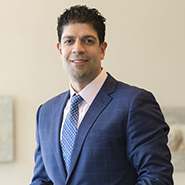 Fariborz Rezai, MD
Graduation Date: 2001
United States
Saint Barnabas Medical Center
Director, Intensive Care Unit; Director, Division of Critical Care, Department of Surgery
Undergrad: Rutgers University
Residency: Internal Medicine, Newark Beth Israel Medical Center
Fellowship: Pulmonary Medicine and Critical Care, Newark Beth Israel Medical Center
You're in the process of converting the ICU at Saint Barnabas from a traditional model to a closed model. What are the benefits of a closed model?
The whole essence of a closed model is that everyone's on the same page. The captain of the ship is an intensivist, who knows exactly what's going on. The direction of the care is going in one direction instead of it being sporadic. If there's a patient that comes into the emergency room, if the ER feels he or she needs it, they can call us for a consult within one hour. And it isn't unique to the ER. If a patient's on a medical floor, they've been sitting there for a few days and their condition worsens, a physician can call us and we can go up and provide care that they feel is appropriate. We have a very strong working relationship with all the disciplines in the other departments.
What is a successful day in the ICU? What is a difficult day?
A successful day and a difficult day can go hand in hand. A difficult day isn't so much whether the work was hard or there was a high volume of work. A difficult day comes when a patient has passed away. It doesn't matter if the patient is 108 years old or 22—a life is a life. No matter how old, having to be very involved with the family and giving them the news is a very difficult process, although it's a very important process. At the same time, family members want honesty. They appreciate being 100 percent transparent with them and giving the best possible effort, whether it's reviving a patient or bring them back to baseline. That's what we do every day.
How do you evaluate your own success as an overseer of it all?
First and foremost, I want to make sure that the patient care delivered here is excellent. One of the best ways to do that is to make sure everyone feels that they're a valuable part of the team. It's important to recognize the contributions of everyone involved, whether it's the social worker, the dietitian, the physician, or the one doing the surgical procedure. That's the essence of it—everyone working together to take care of the patient. It's important that everyone knows how much they've done and how much they're appreciated.
What's it like to be practicing near where you grew up?
I've lived here my whole life; I was born in Jersey City and raised in Florham Park. I see a lot of family members of individuals who I grew up with, and I have to admit, it can be a little weird, but at the end of the day, I do feel very valued because I'm here to save a loved one for them, or to cope with them.
Saint Barnabas is one of the 70-plus affiliated hospitals and clinical centers in the SGU network. What's it like to see SGU clinical students rotating through?
When third- and fourth-year students find out that the director of the ICU at one of the largest health care systems in the United States is an SGU grad, I see their eyes light up. I go down to Grenada every year with the clinical faculty so I know what the curriculum is. I know that SGU has prepared them very well and that they have a good foundation of knowledge. I also know what they're going through. I like to imagine them thinking about what the future holds for them. They're nervous, they just came back to the states, and they're trying to get their step exams out of the way. I can appreciate it, and I enjoy reliving those times with them. I myself am very lucky that I chose SGU.
Find out if St. George's University is right for you.
https://www.sgu.edu/wp-content/uploads/2020/02/sgu-logo-grenada.svg
0
0
bpmauser
https://www.sgu.edu/wp-content/uploads/2020/02/sgu-logo-grenada.svg
bpmauser
2018-07-10 16:19:49
2018-07-11 13:58:08
Fariborz Rezai, MD