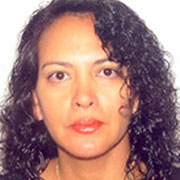 Graciela Soto, MD
Graduation Date: 1998
Peru
Graciela Soto, MD '98, is taking the information she learned at St. George's University, in her profession, and in life, and passing it on to the next generation of doctors. An assistant professor in the Division of Critical Care Medicine at Montefiore Medical Center and the Albert Einstein College of Medicine in New York City (NYC), Dr. Soto values the platform that she has.
"While still in medical school I was told that I was good at teaching and should choose a career in academics," Dr. Soto said. "I am glad that I am able to give back all that I have learned. It's a way of paying back SGU for giving me the opportunity to become a doctor."
From her native Peru to her current post in the Big Apple, Dr. Soto has made many stops along the way. She immigrated to the United States at age 21, and spent three years completing her bachelor's degrees at the University of South Florida, earning magna cum laude distinction at USF and a 30 MCAT score. Soto applied to St. George's University and was accepted into the entering MD class of 1998.
Dr. Soto was more than pleased with her choice.
"To me, being in Grenada was a paradise," she said. "There were people from all different countries, the teaching was very good, and I learned all about what I wanted to do, and I've been able to pass that on as a professor myself."
Following two years of basic sciences in Grenada, she completed her rotations in New Jersey and New York, predominantly at Maimonides Hospital in Brooklyn. Upon graduating, she bolstered her resume during the winter and spring, volunteering as a research assistant in Bellevue Hospital's Division of Pulmonary and Critical Care Medicine, while working as assistant professor at Touro College School of Health Sciences on Long Island, New York, in 2000.
"Teaching students at the bedside was a very rewarding experience," said Dr. Soto. "It made me realize that academics was my true calling."
It allowed her to match with a top IM residency at New York University Medical Center, where she was also a technical assistant. Later on, she completed a fellowship in critical care medicine at Mount Sinai Medical Center in New York City and moved to Los Angeles to become assistant professor in the Division of Pulmonary and Critical Care Medicine at the University of Southern California, Keck School of Medicine.
Besides her clinical and academic interests, Dr. Soto has also devoted herself to research in critical care.  While in Los Angeles, she was involved in clinical and translational research studies from the National Institutes of Health (NIH), and she returned to New York to earn a master's degree in clinical research from Albert Einstein College of Medicine in 2011.  Her research interests include acute respiratory distress syndrome (ARDS), sepsis, acute renal failure, and health disparities. Dr. Soto is currently co-investigator in studies sponsored by the National Heart, Lung, and Blood Institute (NHLBI) and a member of the US Critical Illness and Injury Trials Group (USCIITG). Dr. Soto is board certified in critical care medicine and internal medicine, and is a longtime member of the American College of Physicians, Society of Critical Care Medicine, and American Thoracic Society.
During her travels and endeavors, she often harkens back to the opportunity provided by her alma mater, St. George's University.
"If it weren't for St. George's, I wouldn't be where I am," Dr. Soto said. "Academics is a way that I'm able to be a mentor for medical students."
Published November 2013
Find out if St. George's University is right for you.
https://www.sgu.edu/wp-content/uploads/2020/02/sgu-logo-grenada.svg
0
0
Erin Shaw
https://www.sgu.edu/wp-content/uploads/2020/02/sgu-logo-grenada.svg
Erin Shaw
2016-12-16 21:57:07
2021-01-30 04:08:29
Graciela Soto, MD