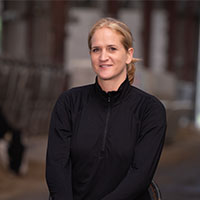 Hollie Schramm, DVM
Graduation Date: 2007
USA
Virginia Tech Dairy Teaching and Research Farm/Virginia-Maryland College of Veterinary Medicine
herd veterinarian/clinical assistant professor
Growing up on a dairy farm, Hollie Schramm, DVM '07, learned early on what it felt like to be a veterinarian and the experience shaped her future career path.
"I was always trying to fix and treat animals on the farm and make them healthy," Dr. Schramm said.
Since graduating from St. George's University, Dr. Schramm has served as the herd veterinarian for over 10 years at the Virginia Tech Dairy Teaching and Research Farm. In addition, Dr. Schramm is a clinical assistant professor at Virginia-Maryland College of Veterinary Medicine, a role for which she is responsible for assuring the welfare and health of production animals, safety of the food supply, and teaching veterinary students—including SGU clinical students—in the field, classroom, and in hands-on laboratories. She does clinical and didactic teaching, research, and outreach.
She shares what it's like in her role as a both a teacher and a large animal veterinarian, and what students can expect to learn in their clinical experience at VA/MD.
St. George's University: What kind of experience can students expect at VA/MD?
Dr. Schramm: In my role, I'm in charge of the overall management of the calves and cows. We do a lot of preventative medicine and reproductive work, working with sick cows, helping with general health and vaccination protocols, and different aspects of hygiene. As a clinical professor, I oversee veterinary students on the production management medicine rotation, where we primarily work with food animals, including beef and dairy cattle, sheep, goats, camelids, and pigs.
SGU: What do you hope is the biggest takeaway for clinical students?
Dr. Schramm: We want to provide our students with as much hands-on experience, so that they're ready on the first day of veterinary practice. My motto is really "see one, do one, teach one." We have a range of clinical skills laboratories, from foot trimming to surgical techniques. I also teach a class called Food Animal Clinical Techniques where the students learn low stress cattle handling, everything from putting on halters to basic injections and beef quality assurance. If you ask the students, they will tell you that they get the most hands-on experience in the production management rotation.
SGU: How much is research a part of your job?
Dr. Schramm: I do approximately 15 percent research as part of my job responsibilities. Many of the research studies I collaborate on are related to ruminant nutrition, but range from pain management in ruminants to prevention and treatment of mastitis to calf behavior and welfare. We have a few studies related to the pathophysiology of milk production, including how many times we milk the cow per day and whether that has a positive or negative effect on production and what controls this at the cellular level.  These studies are very informative for the dairy industry. We know that it's important for the future of the world and for sustainable agriculture.
SGU: What drew you to production medicine in the first place?
Dr. Schramm: It's just in my blood. I grew up on a large farm in Michigan. We had a small dairy herd of about 60 cows, and we also had everything from sheep and goats to hundreds of rabbits. We had all kinds of critters honestly. I was always trying to fix and treat animals on the farm and make them healthy.
I also really enjoyed the management and nutritional sides of animal health, which led me to veterinary school. It has been great doing what I love and making a difference in the field for both the veterinary students as well as the producers. Food animal veterinarians are key in food safety and are important for everybody in America and the world.
SGU: Why did you choose SGU and what was your experience like?
Dr. Schramm: Growing up, I traveled abroad a lot, and honestly, I never applied to any US schools. I just decided I wanted to continue my journey traveling and saw SGU as a great opportunity to learn veterinary medicine on an island.
I had an awesome experience at SGU. I absolutely loved the island. We had wonderful professors, and we all knew them on a personal level, which was very nice. I enjoyed being able to interact with them and ask them questions. They made time for us, which I think is something a little bit different from other universities.
SGU: You're giving back now as a clinical professor. How can a student be successful during their clinical year?
Dr. Schramm: Believing in yourself is very important. Veterinary students can sometimes be apprehensive about saying or doing the wrong thing, or worried about what someone is going to say to them. But that's what we as professors are here for—to teach and to answer your questions. I would tell anyone to go into clinics with a great attitude, to communicate well with your clients and colleagues, and to have fun.
Find out if St. George's University is right for you.
https://www.sgu.edu/wp-content/uploads/2020/02/sgu-logo-grenada.svg
0
0
lchartor
https://www.sgu.edu/wp-content/uploads/2020/02/sgu-logo-grenada.svg
lchartor
2022-07-05 16:12:54
2022-07-05 16:12:54
Hollie Schramm, DVM