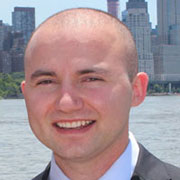 Huseng Vefali, MD
Graduation Date: 2010
Turkey
The son of a cardiologist, Huseng Vefali, MD SGU '10, has long been familiar with the heart's importance. Like the heart sits at core of a human's health, treating patients' cardiac issues has been at the core of Dr. Vefali's motivation in medicine. He is currently an interventional cardiologist at New York-Presbyterian Brooklyn Methodist Hospital, teaching its fellows, residents, and medical students, including those from St. George's University. "I started med school knowing that I was going into cardiology, and the more I learned about it, the more I fell in love with it," he said.
As a child, Dr. Vefali visited his father at medical school and through his residency and fellowship. His father went on to become a partner with Cankaya Hospital in Ankara, as well as its director of cardiology, and Dr. Vefali saw an accurate depiction of the profession, good and bad, in and out of the hospital. "My dad would tell me stories about how a patient was gravely ill, and then he did this, this, and this, and now the patient was doing fine," Dr. Vefali recalled. "I didn't understand what he did, but in my eyes as a little kid, my dad was as amazing as any superhero I knew. But I also got to see the bad parts of being a cardiologist—the emergent calls in the middle of the night, or if a patient passed, I saw how both he and the family were affected on those unfortunate and rare occasions."
Dr. Vefali earned his bachelor's degree in biology from George Mason University in 2005 and then his Master of Health Services Administration from Strayer University. He attended SGU on an International Peace Scholarship and thrived in his new surroundings, both socially and academically. Dr. Vefali was a member of the Student Government Association and Clinical Research Society, and president of the Persian Student Association.
The University prepared Dr. Vefali to stand out as a clinical student at Elmhurst Hospital in Queens, NY, as well as on the United States Medical Licensing Examination (USMLE) exams. He finished at or above the 97th percentile on all three USMLE steps the first time he took them. "SGU was really an ideal medical school setting," he added. "It has all the conveniences of back home, but still it's still laid back so you can concentrate on your studies. It could not have worked out any better."
Dr. Vefali obtained an internal medicine residency at Seton Hall University St. Michael's Medical Center in Newark, NJ, and then completed a cardiovascular disease fellowship at Temple University St. Luke's Hospital in Bethlehem, PA. He looks forward to returning to Turkey and join his father's practice. "I believe in the importance of remembering your roots and giving back to the people who helped you forge your path in becoming who you are today," Dr. Vefali said. "Pursuing knowledge at esteemed educational institutions and learning the most up-to-date medical and clinical knowhow is my duty, and I hope it will prepare me in my quest to give back to my people and my country."
https://www.sgu.edu/wp-content/uploads/2020/02/sgu-logo-grenada.svg
0
0
Erin Shaw
https://www.sgu.edu/wp-content/uploads/2020/02/sgu-logo-grenada.svg
Erin Shaw
2016-12-28 18:16:29
2017-06-23 20:37:54
Huseng Vefali, MD