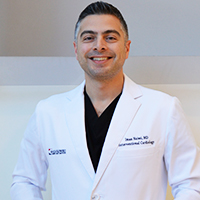 Iman Naimi, MD
Graduation Date: 2014
Canada
Stollery Children's Hospital and Manzankowski Alberta Heart Institute
Cardiology
Iman Naimi's, MD '14, career interests were solidified during his third- and fourth-year clinical rotations as a St. George's University medical student. The mentorships and experiences he gained directed him toward the path he's been on ever since, pursuing a pediatric residency and then pediatric cardiology and congenital interventional cardiology fellowships.
Originally from Vancouver, Canada, Dr. Naimi has been on quite a journey. As an aspiring medical professional, he went from Canada to Grenada to the US, and then finally back to Canada where he is now a congenital interventional cardiologist at Stollery Children's Hospital and Manzankowski Alberta Heart Institute, as well as a clinical assistant professor of pediatric cardiology at the University of Alberta, Faculty of Medicine and Dentistry. Dr. Naimi shared how he made his way back to Canada to achieve his dream of becoming a physician in his home country.
St. George's University: Why did you choose your specialty?
Dr. Naimi: I have always had an interest in cardiology and cardiac surgery. However, during my third- and fourth-year rotations my love for pediatric cardiology and interventional cardiology was greatly influenced by the mentorship and experiences I had in general pediatrics at St. Barnabas Medical Center with Dr. Margolin, Pediatric Cardiac ICU at Miami Children's Hospital, and interventional cardiology with Dr. Marc Cohen at Newark Beth Israel. I was fascinated by the variety and complexity of congenital heart disease and transcatheter interventions to treat or palliate such lesions. At this time in the program, I decided to apply to pediatrics with the intention of pursuing cardiology and interventional cardiology.
SGU: Where did you match and what was your match experience like?
Dr. Naimi: I matched at SUNY Upstate Medical University for a pediatric residency and matched in Seattle Children's Hospital and University of Washington Medical Center for pediatric cardiology and congenital interventional cardiology fellowships.
I knew SUNY Upstate Medical University has always had a great track record for residents matching in top fellowship spots across the country. Therefore, I was very excited and relieved that I matched at a University Programs knowing that I wanted to pursue pediatric cardiology.
My match experience at Seattle Children's-UW for cardiology was surreal, and I vividly remember the match day. I knew I would get the best hands-on training there, leading to amazing opportunities for matching into an excellent advanced-fellowship spot in interventional cardiology and securing a competitive faculty position after graduation.
SGU: Did you always know you wanted to practice in Canada and how did you prepare for that?
Dr. Naimi: Canada is my home, and I always knew that one day I would return and practice somewhere in Canada after my training.
At SGU, I joined the Canadian Student Association and went to all the info sessions to stay up to date with different provincial policies and elective sites. While in school, I took the MCCEE alongside the USMLE. I also did a family medicine rotation in Vancouver, BC, and was able to obtain an excellent recommendation letter to increase my chances of matching into the Canadian residency program. However, after learning the timeline of CaRMS relative to the US match, I decided to only apply for US residency programs.
I then decided to take the Royal College Exam for Pediatrics to ensure I could eventually obtain a license to practice in Canada. During my fellowship, when looking for a job in Canada, I found that Alberta (CPSA) did not require me to take the Royal College Exam for Cardiology, and since I was boarded in the US, I could obtain a practice permit in Canada.
SGU: What advice do you have for SGU students who are hoping to practice in Canada after graduation?
Dr. Naimi: What I have learned is that the best way to prepare is to plan ahead. This entails getting involved with the Canadian Student Association and attending all the meetings and information sessions. It is very important to reach out to Canadian programs early on in your training to inquire about elective rotation opportunities. Given the timeline of the Canadian and US match in the past, I personally chose to apply only for US residency and fellowship spots and was still able to land a job in Canada. If you choose this path, depending on the Province that you want to work in, you may be required to take the Royal College Exams. It is crucial to know the timeline of all the Canadian exams and be prepared to take them alongside the US exams. This will provide ease when applying to Canadian residency programs or job opportunities after you complete your training.
If you maintain a high GPA and board scores, as well as excel in your clerkship training by demonstrating that you can perform well in a busy clinical setting, you will set yourself apart from others. Throughout your training, it is very important to form strong connections with mentors, especially those within the institution and program that you would like to pursue, allowing you to receive excellent recommendation letters for residency opportunities after graduation.
SGU: Looking back on your journey to where you are today, why was SGU the right fit for you?
Dr. Naimi: SGU gave me the opportunity to pursue my dream of becoming a physician. It is through its extensive clinical affiliations that I was able to secure clerkships in many great hospitals that provided me with amazing mentorship opportunities that helped me find my path and pursue my dream.
Find out if St. George's University is right for you.
https://www.sgu.edu/wp-content/uploads/2020/02/sgu-logo-grenada.svg
0
0
sstoss
https://www.sgu.edu/wp-content/uploads/2020/02/sgu-logo-grenada.svg
sstoss
2023-01-04 10:21:15
2023-01-04 10:21:15
Iman Naimi, MD