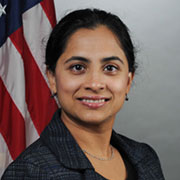 Itala Manosha Wickremasinghe, MD
Graduation Date: 1998
Sri Lanka
Spinal Cord Injury Center, Dallas, TX
Physical Medicine and Rehabilitation
In her first rotation in her first year of residency at University of Texas Southwestern Medical Center (UTSMC), Itala Manosha Wickremasinghe, MD SGU '98, saw the course of her career unfold as soon as it had begun. Stationed at the Spinal Cord Injury (SCI) Center, an affiliate of the US Department of Veterans Affairs in Dallas, Dr. Wickremasinghe felt an instant connection not only with the facility but the patient population: its veterans.
"I just fell in love with the patients, the environment, and the complexity of care," Dr. Wickremasinghe said. "The veterans are such a special population that is so worthy of the best and highest levels of care. I knew this place was for me."
She joined the SCI Center, one of only 24 VA spinal cord injury centers in the country, following her residency and has been there ever since, ascending to her current position of chief in 2010.
Dr. Wickremasinghe and her staff provide acute care, rehabilitative care, subspecialty care, as well as primary care for patients who range from young adulthood to elderly. For her efforts, Dr. Wickremasinghe has been named one of America's Top Physicians in spinal cord injury medicine each of the last seven years. As an "unexpected highlight of [her] career," she also earned the 2015 Advocacy/Excellence Award from the National Paralyzed Veterans of America, which is given to one physician nationwide per year for demonstrating outstanding leadership, professional achievement, and patient care and advocacy.
In addition, she recently spearheaded grant writing, design, development and implementation plans to build the third spinal cord injury long-term care center in the nation at UTMSC. The project, which is scheduled to be completed in 2020, will include a 30-bed long-term acute care center, an outpatient center, apartments, recreational areas, as well as a 1,000 car parking garage.
"My patients are my motivators and my inspiration," Dr. Wickremasinghe said. "I have an amazing team that is so well aligned with our mission here. We need to provide the best quality health care that we can do our veterans, pushing the envelope and pushing boundaries while staying within policy and doing our job well. It's a mission that I stand by, spread, and remind my staff of every day."
She has spent more than a decade in Dallas, this after an upbringing for which she was always on the move. Although Dr. Wickremasinghe was born in Sri Lanka, she spent her formative years living in England, France, Spain, Belgium and Algeria—her father an engineer, her mother a ballet dancer. Dr. Wickremasinghe then completed high school in the United States and went on to earn bachelor's degrees in biology and French at Houston Baptist University in 1994. She had been waitlisted at three US medical schools but was eager to embark on her journey to become a physician, so she enrolled at SGU in the fall. Having been exposed to numerous cultures in her upbringing, she welcomed the international nature of the SGU campus.
"There were so many different people from so many different places at SGU, and that was really enjoyable to me," Dr. Wickremasinghe said. "Diversity is a beautiful thing. It teaches you to accept people for their life experiences and their differences. It makes you stronger."
She spent two years in Grenada studying the basic sciences, mixing her studies with leisure time on the island. Dr. Wickremasinghe went on to complete her clinical rotations at New York, New Jersey, and Connecticut. In 2001, Dr. Wickremasinghe began a physical medicine and rehabilitation residency at UTSMC and Veterans Affairs North Texas Health Care System.
Upon completing residency, she underwent a fellowship in spinal cord injury at Baylor College of Medicine's Memorial Hermann-The Institute for Rehabilitation and Research (TIRR) in Houston. Fortunately, a position on staff at the SCI Center opened up. After immersing herself in patient care as well as the business aspect of the operation, Dr. Wickremasinghe went on to become clinical operations manager and medical director of its Home Care Program in 2007 before going on to become Chief in 2010. In addition, she is an assistant professor in the Department of Physical Medical and Rehabilitation at UTMSC, and a reviewer for the Journal of Spinal Cord Injury Medicine.
Throughout her career, Dr. Wickremasinghe has crossed paths with dozens of St. George's University students and graduates, for whom she has always been willing to vouch.
"SGU graduates shine wherever we are," she said. "I have hired or helped in the hiring process for several SGU graduates because I know they are darn good physicians. They're willing to work hard, to do what it takes, and never take anything for granted because nothing was handed to them."
Find out if St. George's University is right for you.
https://www.sgu.edu/wp-content/uploads/2020/02/sgu-logo-grenada.svg
0
0
Erin Shaw
https://www.sgu.edu/wp-content/uploads/2020/02/sgu-logo-grenada.svg
Erin Shaw
2016-12-28 18:22:43
2021-02-02 15:24:27
Itala Manosha Wickremasinghe, MD