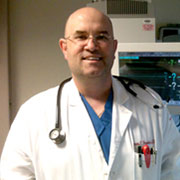 James Peoples, MD
Graduation Date: 2007
United States
Jim Peoples always knew that he wanted to be a physician. In what capacity, though, he wasn't sure. His passion for neurology developed over four years as a student at St. George's University School of Medicine. Now a neurologist and neurocritical care fellow in the department of neurology/neurosurgery at Jefferson Hospital for Neuroscience within Thomas Jefferson University Hospital, a 700-bed facility in Philadelphia, Dr. Peoples can safely say there's nothing else he'd rather be doing.
"It's a rewarding feeling to get to do exactly what you want to do in life," Dr. Peoples said. "It's great to wake up in the morning and go to the hospital. All the years of hard work paid off. I truly enjoy coming to work and practicing medicine."
Dr. Peoples earned his Bachelor of Arts in biology from La Salle University in 1996 and then his Master of Science degree in microbiology from Thomas Jefferson University in 2002. When applying for medical schools, he admits that he considered SGU his "alternative option," but any doubts disappeared when he realized the quality of international education at the University, its faculty, as well as the caliber of student he was living and learning with on campus.
"The academics and the facilities were exceptional, and Grenada in itself was an outstanding experience," he said. "I had a great time socially, it was a beautiful scenic place, and the people that I was surrounded with were really motivated to study. We saw it as an opportunity to get where we wanted professionally. I didn't really have the distractions of home and I definitely benefited from being away with a goal in mind."
Dr. Peoples had designs on being a surgeon until Dr. Leon S. Wolfe, a neurologist from the acclaimed Montreal Neurological Institute, came to Grenada as a visiting professor during Dr. Peoples' second year. It changed the course of his life.
"He introduced me to neurology I still have the notes I took from his class," Dr. Peoples said. "There were many who did, but he especially was a professor who really had an impact."
After garnering his Doctor of Medicine from St. George's, Dr. Peoples completed a surgical internship and then an internal medicine internship before matching into a three-year residency in the Department of Neurology at nearby Temple University Hospital (TUH). During his residency he earned the Resident Excellence in Teaching Award in 2010, Consultant of the Year honors for 2009-10, and was named chief resident for 2011-12. He is board-certified by the American Board of Psychiatry and Neurology and will be board eligible in neurocritical care following his graduation from fellowship in 2014.
Dr. Peoples is focused on making an impact on the lives of patients at Jefferson Hospital because he remember the profound impact of Dr. Wolfe. The staff treats an array of diseases and conditions, including victims of stroke, brain trauma, tumors, epilepsy, neuromuscular diseases and headaches as well as those with spine and spinal cord injuries. In addition to his clinical duties in the intensive care unit, Dr. Peoples are active as an instructor in both stroke education and the residency's procedural skills lab.
A native of Pennsylvania, Dr. Peoples lives in Downingtown, PA, with his wife and two daughters.
Published October 2012
Find out if St. George's University is right for you.
https://www.sgu.edu/wp-content/uploads/2020/02/sgu-logo-grenada.svg
0
0
Erin Shaw
https://www.sgu.edu/wp-content/uploads/2020/02/sgu-logo-grenada.svg
Erin Shaw
2016-12-28 18:26:33
2021-02-02 15:49:56
James Peoples, MD