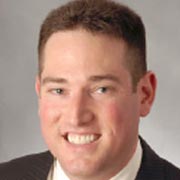 Jason Finkelstein, MD
Graduation Date: 1996
United States
Advanced Heart Care
Cardiologist
Jason Finkelstein grew up in Long Island, New York and elected to stay in state as he earned his Bachelor of Science in biology from Binghamton University. Studying hard, Jason graduated with a 3.68. Although he applied to dozens of medical schools in the United States, he made his decision to attend St. George's after speaking to a former student who only had good things to say about the St. George's University. Jason was accepted for the August class of 1995. "I went on a whim… All I knew was what was said to me," he recalls. "I knew if I didn't like it I could always come back." Although his trip to Grenada was not his first time traveling outside the United States, he was excited to experience and live in a new culture.
Although it was a change from New York, Jason says, "It worked out great." He was pleasantly surprised to discover his classmates came from some of the top Ivy League schools in the US and a lot of professors were from US schools as well. He also commented on how available professors were to help students. "They had their own office hours for extra help and counseling, and the department of education services had additional tutors." Living outside the US and studying at SGU gave Dr. Finkelstein the motivation to pursue his personal and professional goals. Aside from the diverse student body and culture experiences at St. George's University, Dr. Finkelstein commented on how "even during my clinical rotations in inner city hospitals, I was definitely exposed to an impressive variety of patients and I had the ability to gain more hands-on experience than if I was in a US medical school."
While in Grenada, he volunteered his time by visiting orphanages with a group of St. George's students, working with children who didn't have a family and trying to put a smile on their faces. He did not know anyone when he first arrived in Grenada, but quickly made life-long friends. He continues to remain in close contact with this network of fellow classmates.
Jason graduated from St. George's University in 1999 and came to be the first doctor in his family. He completed an internal medicine residency at MCP Hahnemann University Hospital in Philadelphia, Pennsylvania. During his residency he became more interested in cardiology and decided to take a Cardiology Fellowship at Tulane University's Health Sciences Center for three years. In 2006, he also finished an interventional cardiology fellowship at St. Vincent's Medical Center in Indianapolis. Currently, Jason is board certified in Internal Medicine, Cardiovascular Diseases and Nuclear Cardiology. He specializes in preventative cardiology and percutaneous coronary intervention, and is currently in private practice with Advanced Heart Care in Decatur, Texas. His practice follows a non-traditional model where the main headquarters are based in Plano, Texas and all the practicing doctors focus on serving the rural and suburban areas. Jason is an advocate of this model of health care because it addresses the issues of many rural communities. "Before our practice was in place patients in rural areas would have to travel for miles in order to obtain cardiac care. We've grown the cardiac services and people don't need to travel for top care."
Dr. Finkelstein hasn't forgotten the St. George's community. "Grenada gave me an opportunity—not just the school, but the citizens. Living in the country and seeing how some of the people are disadvantaged in their healthcare, I just wanted to help." He travels to Grenada every year to volunteer his services. During his regular one week visits he manages to see about 50 patients. Even as an alumnus, Jason believes St. George's continues to offer its support; he explains "Unlike many other medical schools, St. George's doesn't forget you after you graduate. They're still there for students with letters of recommendations or license applications."
Jason spends his spare time traveling and spending time with his family. He and his wife of 10 years have two wonderful boys, ages three and five. He hopes to bring the entire family along his next visit to Grenada so they can experience the island for themselves.
Published June 2008
Find out if St. George's University is right for you.
https://www.sgu.edu/wp-content/uploads/2020/02/sgu-logo-grenada.svg
0
0
Erin Shaw
https://www.sgu.edu/wp-content/uploads/2020/02/sgu-logo-grenada.svg
Erin Shaw
2016-12-28 18:29:46
2021-02-02 17:04:27
Jason Finkelstein, MD