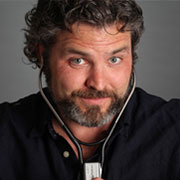 Jason Fischer, MD
Graduation Date: 2003
Canada
No matter the hour of the day, Jason Fischer, MD '03, is on his toes. As staff physician and director of the Emergency Point-of-Care Ultrasound Program in the Division of Emergency Medicine at the Hospital for Sick Children in Toronto, he and his colleagues must be prepared for whatever emergency they face.
"Pediatric emergency medicine offers a unique challenge in medicine of being prepared for emergencies that are more sporadic and more unpredictable, but with incredibly high stakes," said Dr. Fischer, who is also an assistant professor in the Department of Pediatrics at the University of Toronto. "Your ability to prepare yourself, and prepare your trainees and staff adequately, is that much more of a test, and I feel like this is the right role for me with the skills and background I have."
Dr. Fischer trained in emergency medicine initially, but recognized the unique challenges of pediatric emergency medicine through his international work. He gained valuable experience while rotating as a medical student in the US and UK. Then during his emergency medicine residency at Alameda County Medical Center in Oakland, CA, he travelled to East Timor with an Australian-led aid group provide healthcare to the destabilized nation.
"East Timor is a young country made up mostly of kids, and in the rest of the developing world, you see far more pediatric patients than you do adults," said Dr. Fischer.
The global perspective gained during medical school and residency has proved valuable in Fischer's development of the Emergency Point-of-Care Ultrasound Program at the Hospital for Sick Children, an initiative that aims to spread the use of the technology to enhance pediatric health care units worldwide.
"We are bringing together all of our academics together for a common mission—we want to impact a billion children by teaching 200,000 healthcare workers how to use this technology," Dr. Fischer said. "For the whole history of medicine, we've relied on a lot of surrogate markers for clinical decision-making and to guide procedures. Now the technology allows us to see what's really going on objectively and in real time. The application of this technology is still in its infancy, and as an academic, it's very exciting when you identify a new technology that's really practical and really makes a difference in patient care."
Dr. Fischer arrived at the Hospital for Sick Children, after completing a pediatric emergency fellowship at Children's Hospital and Research Center Oakland and an emergency ultrasound fellowship at Alameda County Medical Center. He credits St. George's University for preparing him well for his clinical rotations and his step exams, paving the way to a choice residency and successful career in pediatric emergency medicine.
"At SGU, I met a lot of fantastic people. We're still close friends," Dr. Fischer said. "I was prepared to make a good impression and get the residency spot I wanted, and that was the ultimate goal. SGU has given a lot of us the tools to build great careers."
As a clinical student, he was able to train in a variety of healthcare systems, a sharp contrast from the experiences had by fellow residents who hailed from US schools.
"I was one of the few students in my class who really traveled," Dr. Fischer said. "I did rotations in Europe and all throughout the US, including in California, which is where I ended up and wanted to be. For a Canadian kid, it was a wonderful experience."
Find out if St. George's University is right for you.
https://www.sgu.edu/wp-content/uploads/2020/02/sgu-logo-grenada.svg
0
0
Erin Shaw
https://www.sgu.edu/wp-content/uploads/2020/02/sgu-logo-grenada.svg
Erin Shaw
2016-12-28 18:33:01
2021-02-02 17:37:51
Jason Fischer, MD