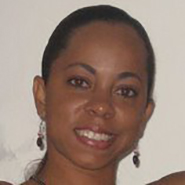 Jeannine Sylvester-Gill, BSc
Graduation Date: 2000
Grenada
Studying psychology in the 1990s wasn't a popular choice in Grenada, a stigma attached to the field due to its close link to psychiatry and mental health. Yet Jeannine Sylvester-Gill followed her passion, and as a result, individuals and families in her home country have benefited from her leadership.
Ms. Sylvester-Gill graduated with a Bachelor of Science in social sciences from St. George's University in 2000. Now the Executive Director of Grenada Planned Parenthood Association (GPPA), she oversees the programming and administration of its two clinics, as well as its programs in sexual reproductive health and rights.
"My work at Planned Parenthood has taken me into many different realms. I work on addressing women's issues, human rights, sexual reproductive health, rights for people who have HIV and sexually transmitted diseases and others from the most at-risk populations," said Ms. Sylvester-Gill. "My focus is on ensuring that everybody has a better quality of life, and that sexual and reproductive health services are available to all."
In 1997, while working as a secretary within the newly established School of Arts and Sciences (SAS), Ms. Sylvester-Gill started off as a part-time psychology student in SAS before making the move from staff to full-time student. Later, as more programs within SAS were instituted, she switched to a degree in social sciences with a major in social work.
"SGU presented an opportunity for many Grenadians that didn't exist for us before. It gave us the option to attend a university in our homeland instead of having to travel abroad," said Ms. Sylvester-Gill. "SGU took into consideration the financial aspect and the commitment that was needed. It gave locals the chance to stay in Grenada while furthering their academic career and having their family's support close by. This was an opportunity that many Grenadians didn't have before."
After graduating from SGU, Ms. Sylvester-Gill utilized her skills in psychology and human behavior while working as a social worker for 12 years before joining GPPA in 2012. In addition to her current role, Ms. Sylvester-Gill recently submitted her master's thesis for approval to the University of the Southern Caribbean, where she will earn her Master of Science in counseling psychology, with an emphasis in marriage and family therapy.
SGU provided the building blocks for a long and successful career, as well as relationships that have stood the test of time.
"With SAS being a new school, there were a few challenges but there was also a lot of support," she added. "That experience taught us to be flexible and adapt to different circumstances a lot better. It allowed us to mingle with the medical students as well as other international students from the Caribbean and around the world, and we formed lifelong friendships and networks. SAS presented us with numerous opportunities for development that weren't available to us before."
Published May 2017
Find out if St. George's University is right for you.
https://www.sgu.edu/wp-content/uploads/2020/02/sgu-logo-grenada.svg
0
0
bpmauser
https://www.sgu.edu/wp-content/uploads/2020/02/sgu-logo-grenada.svg
bpmauser
2017-05-04 19:09:20
2021-01-20 21:47:10
Jeannine Sylvester-Gill, BSc