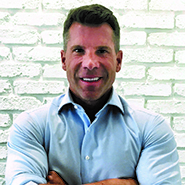 Jeff Vacirca, MD
Graduation Date: 1998
United States
New York Cancer Specialists
Hematology and Oncology
Current Positions: CEO/Managing Partner and Chief of Clinical Research, New York Cancer Specialists; President, Community Oncology Alliance; Medical Director, ION/ABSG; CEO and President, National Translational Research Group
Undergrad: University at Albany
Residency: Internal Medicine, Stony Brook University Hospital
Fellowship: Hematology and Medical Oncology, Stony Brook University Hospital
How does New York Cancer & Blood Specialists help patients seeking cancer treatment?
"Historically, people felt like they had to drive 100 miles to be seen at a major cancer center. Now they realize that they can get the same care, or even better care in many instances, a mile from their house. People don't have to go far anymore. If there's a challenge and they need us, we're right down the road. They can come right in and be seen within an hour. As a community-based cancer center, our goal is for our patients to be treated in the most convenient place possible, in addition to being in a place that has cutting-edge medical care. We want to give them every advantage that a patient could get anywhere else in the world, right where they live and work every day."
Your organization has 25 locations on Long Island. How does the kind of care you provide differ from other hospitals and clinical centers?
"It makes a tremendous difference for us and for them. Patients come into our office and they're not a number. They're recognized in every one of our centers because our staff knows who they are. We've tried to make it such a place where it isn't scary."
How do you believe that oncological care differs from other fields of medicine?
"There's an intimacy in this field between patients and caregivers that you rarely see. The physicians become almost part of the family in taking care of patients. Also, this is probably the only medical specialty where we have new therapy that comes out to help people almost every month. To me, that's pretty remarkable. We're very fortunate in that our cancer center has been on the leading edge in helping define what these new therapies are going to be."
In addition to the connections you make with your patients, how do you manage your emotions during the difficult times?
"Emotionally, it's a difficult field of medicine to work in because, no matter how good we are, there are going to be people who die from cancer. It means we have a long way to go in defining what the best treatment is for patients. At the same time, even when we try our best, the outcome has sometimes already been determined. That in itself makes this a tough field for a lot of people to be in. You need to have those small wins every day. Just yesterday, I sat with a woman with metastatic breast cancer who I've taken care of for over eight years. I had to have a discussion with her where I said that we couldn't give her anything in terms of treatment moving forward, but we could do some things about her quality of life in the time that she has left, to make it as meaningful as possible. Even though that was a really tough discussion to have with her, at the end of the day, she felt good about what she was doing and what we've been through together, so we're able to see the next person and keep that positive feeling with you."
How has attending SGU shaped you as a physician?
"My experience at SGU forged an unbelievable group of doctors who worked together through everything. Now as I'm on the other end of it and I make the decision on who's hired, when I see SGU grads, they get interviewed first because I know what they're made of. I know how hard we worked, and I also know that they realize the value of teamwork. They know that they have to get through things together. They're going to be smart, and I've yet to meet someone from SGU who wasn't hard-working and in the field other than for the love of medicine."
Published June 2018
Find out if St. George's University is right for you.
https://www.sgu.edu/wp-content/uploads/2020/02/sgu-logo-grenada.svg
0
0
bpmauser
https://www.sgu.edu/wp-content/uploads/2020/02/sgu-logo-grenada.svg
bpmauser
2018-06-07 16:17:55
2021-01-28 20:11:16
Jeff Vacirca, MD