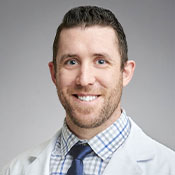 Jeremy Bosworth
Graduation Date: 2013
United States
University of Alabama at Birmingham
Plastic Surgery
Before Jeremy Bosworth, MD '13, enrolled at St. George's University, he was considering a career in law or the FBI. But it was a chance encounter with an old friend who had recently graduated from SGU's School of Medicine that changed his course forever.
With the encouragement of his friend, Dr. Bosworth applied and was accepted to SGU—and he never looked back. It was while he was on campus in Grenada that he discovered his true passion in life—medicine, particularly surgery, and eventually a love for the very specialized field of plastic surgery.
Dr. Bosworth is currently the chief resident of plastic and reconstructive surgery at the University of Alabama at Birmingham. Recently, he was awarded an aesthetic fellowship at North Texas Plastic Surgery (NTPS) in Southlake, TX, which he will begin this summer.
SGU News spoke with Dr. Bosworth to learn what appeals to him about the field of plastic surgery, his path to fellowship, and his advice for students on how to land a competitive residency position.
St. George's University: What is aesthetic surgery?
Dr. Jeremy Bosworth: There are two parts to plastic surgery training: reconstructive plastic surgery and aesthetic plastic surgery. Reconstructive surgery is a big part of plastic surgery training and involves things like craniofacial surgery, breast reconstruction, and reconstruction after trauma. Aesthetic surgery involves many types of elective procedures to enhance the appearance such as face lifts, tummy tucks, liposuction, and even body contouring after weight loss.  It also includes non-surgical treatments such as Botox and laser treatments.
SGU: What is a typical day like for a chief resident?
Dr. Bosworth: My typical day at UAB—where I am now—will vary from a full day in the operating room to a full day of in-clinic seeing patients or some combination. We work at a major university hospital, a children's hospital, a VA, some smaller hospitals, as well as with private practice surgeons in the community so the experience is quite broad and varied. At my fellowship next year, most of the training will be at the main office of a private practice with operating rooms right in the office as well as a medical spa.
SGU: Speaking of, congratulations on your new fellowship at NTPS. What will you be learning during this time?
Dr. Bosworth: Thank you! The fellowship, which is endorsed by The Aesthetics Society, includes advanced training in facial surgery, body enhancement and contouring, and non-surgical treatments, as well as learning some of the business side of private practice plastic surgery. I'll be working with a number of highly trained plastic surgeons which will enable me to broaden and master my skills. I feel that I owe it to my patients to be as well trained as possible, so the fellowship just made sense to me. I'm very excited.
SGU: Why did you choose a career in medicine?
Dr. Bosworth: I went to undergraduate college at the University of Arizona where I was a political science major. My plan was to apply to the FBI or CIA or even law school. But I slowly realized that wasn't what I wanted to do. A friend at SGU told me about his wonderful experience studying medicine there and said, "Why don't you apply?" I quickly discovered that medicine was my passion. And the rest is history.
SGU: What was your path after graduating from SGU?
Dr. Bosworth: I first did a general surgery residency at Nassau University Medical Center in New York. I then went on to start a plastic and reconstructive surgery residency here at UAB. I am graduating this July. This was a three-year residency that required completion of a prior surgical residency to be eligible. UAB was my first choice for plastic surgery because of the amazing medical center and the unrivaled clinical experience and volume in all aspects of plastic surgery that we see here. There are only about 30 one-year fellowships in aesthetic surgery like the one at NTPS. I knew it would be competitive. It required going through an application process, interviews, and then finally a match process.
SGU: How has SGU helped shape your career aspirations? 
Dr. Bosworth: Going to medical school at SGU was an amazing and once-in-a-lifetime opportunity. The students there had such a family-like mentality. Everyone works to lift each other up. Medical school is hard! I could not have got through it without that encouragement from my peers. And living in Grenada was fantastic. It wasn't even until I got off the island that I realized how SGU shaped my professional outlook. I did most of my clinical rotations in New Jersey. That's when it became apparent the SGU students were far-and-above better prepared than the other medical students. We worked harder, were reliable, and motivated, and also grateful for the opportunities. This is all something that SGU engrains in you. I carry that with me today.
SGU: Have you ever encountered any bias or skepticism of your abilities because you had gone to a medical school outside the US?  
Dr. Bosworth: I think that old school bias is slowly disappearing in the field of medicine as a whole, especially for SGU grads. I have always been of the mindset that I am not owed or guaranteed anything, and I always try to just prove myself, regardless of whether I find bias or not. The right mindset, hard work, and of course a little luck always helps.
SGU: Aesthetic surgery is a field of medicine that is extremely competitive. What advice would you give to SGU students who want to pursue a specialized area of medicine?
Dr. Bosworth: I think it's important to really be passionate about the field that you choose. When I was applying for residency, I knew I wanted to do a general surgery residency which is not easy! It requires long hours and lots of information and skills to master. And then there is plastic surgery, which is even more challenging. I always remind medical students who rotate with us that surgery is an amazing field if you love it!
In addition, no matter how hard the day before was, I always come to work the next day with a smile on my face. I believe that attitude is part of what helped me excel. When applying for plastic surgery, I knew it would be a tough road to get a spot as it is a very competitive specialty. I also knew that it was truly what I wanted to do so I was not going to let a challenge deter me.
My final piece of advice is don't rush into making a decision on your specialty. If you don't already know, keep an open mind. But when you do find that passion, go after it with everything you've got.
Find out if St. George's University is right for you.
https://www.sgu.edu/wp-content/uploads/2020/02/sgu-logo-grenada.svg
0
0
lchartor
https://www.sgu.edu/wp-content/uploads/2020/02/sgu-logo-grenada.svg
lchartor
2022-04-04 16:15:22
2022-05-02 15:05:43
Jeremy Bosworth