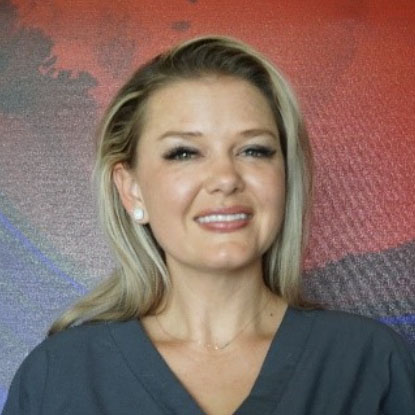 Jessica Best, MSc, MD '12, Emergency Medicine
Graduation Date: 2012
United States
Jessica Best is back to where it all began—literally. After the 2012 St. George's University graduate completed her emergency medicine residency at at University Medical Center Brackenridge (UMCB) in Austin, Texas, the very hospital in which she was born, she has moved on to become an attending who works as an EM physician in the community.
Dr. Best is thrilled that her medical career has led her back to Austin. She and her ER cohorts treat patients who suffer from a wide range of difficulties, from trauma resuscitation and motor vehicle injuries to less acute medical problems such as abdominal pain or throat discomfort.
"I really like seeing patients of all ages and all walks of life," Dr. Best said. "In the ER, it can be something very benign to something that requires the entire department to resuscitate. You have to come to work to be ready for just about anything, and I think that's what's really exciting."
Born in Texas but raised in Colorado, Dr. Best earned her Bachelor of Science in biochemistry from the University of Colorado before going on to obtain her master's degree in chemistry. She then enrolled in SGU's Keith B. Taylor Global Scholars Program (KBTGSP), which she said she "absolutely loved." It allowed her to spend her first year of basic sciences at Northumbria University in the UK before advancing to Grenada's True Blue campus and then New York for clinical rotations.
In addition, she participated in SGU's two-week elective in Thailand, one of many international learning opportunities. Dr. Best has carried her interest in global health into her career. In December 2013, Dr. Best spent a month treating patients at Daeyang Luke Hospital, a village clinic, and a prison clinic in Malawi, a developing African country with a high rate of infectious disease and a lack of resources. She hopes to make additional visits to Malawi to continue making strides toward improved health care.
"The experience was extremely rewarding," Dr. Best said. "The people were so excited to see us, and it was great because of the care we provided and because we were able to share knowledge with base medical personnel. At the same time, it was difficult because we knew the effects we had were only short term because a lot of the problems that people faced were chronic."
Dr. Best is an active member of SGU's Alumni Admission Mentor Program (AAMP), for which graduates take part in information sessions, webinars, career fairs, and other events around the globe to recruit the best and brightest students to SGU. One day, she hopes to give back to her alma mater by teaching emergency medicine at SGU.
"I was able to live and learn in all these wonderful places, and form an opinion on what works and what doesn't," she said. "I'm happy to share my experience with prospective students."
She frequently visits her SGU friends, who have gone on to practice all over the country. "One of the greatest best things that came out of SGU was the friends I have made. They are from all over the world. We like to discuss the difficult medical encounters we may have had, and as they are all in different specialities, I have a lifeline I can trust when needed."
Find out if St. George's University is right for you.
https://www.sgu.edu/wp-content/uploads/2020/02/sgu-logo-grenada.svg
0
0
dbriggs
https://www.sgu.edu/wp-content/uploads/2020/02/sgu-logo-grenada.svg
dbriggs
2021-01-12 21:12:53
2021-01-24 17:13:57
Jessica Best, MSc, MD '12, Emergency Medicine