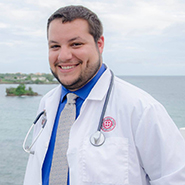 Joe Masciana, DVM
Graduation Date: 2017
United States
VCA West Los Angeles Animal Hospital
Emergency and Critical Care Resident
Dr. Joe Masciana is an emergency and critical care resident vet at VCA West Los Angeles Animal Hospital in California. Originally from Long Island, NY, Dr. Masciana trained for three years at St. George's University before completing his fourth-year rotations at North Carolina State University. Upon graduating, he joined a small animal rotating internship before moving to Los Angeles and starting his residency.
Dr. Masciana came to SGU after earning a Bachelor of Science in cell and molecular biology from Binghamton University.
Your career has already taken you to some wonderful locations. Was that a consideration when choosing to study at SGU?
The opportunity to live in the Caribbean was a definite attraction. I was also drawn to the reputation of the veterinary course and the quality of education I would receive at SGU. Since graduating, I've been fortunate enough to live and work in North Carolina and California which are both terrific locations. I strongly believe that my qualification from SGU has created opportunities for me to work all over the world.
People who become vets often choose their career when they are very young. Was that the case for you?
Yes. I always wanted to treat animals. When I was young, I used to pick up stray dogs in our neighborhood and bring them home to look after them. I also loved science and math from a young age, which is helpful if you want to become a vet. I remember asking for extra science homework at school because I enjoyed it so much. My first degree, which I completed at Binghamton University in New York, was in cell and molecular biology.
When I was a teenager, I worked at an emergency veterinary hospital as a flush maker, where I would make up syringes for the vets, and while studying for my first degree at Binghamton, I had a job during college holidays cleaning out kennels at a vet's office where I was eventually promoted to assistant technician. It was during this time that I applied for vet school at SGU and I haven't looked back.
What did you gain from studying at SGU?
First and foremost, I gained an education and a qualification in a discipline I'm passionate about. I also got involved in multiple clubs and societies at SGU. I was president of the Animal Rescue Fund, which raised money to provide emergency care for animals without owners or insurance. This charity also found foster carers and permanent homes for the animals after they'd received treatment. I was president of the National Student Veterinary Emergency and Critical Care Society, which is a student organization that promotes the education and involvement of veterinary students in emergency and critical care medicine.
I'm really pleased that I made the most of my time living on such a beautiful island. I spent a lot of my free time scuba diving, hiking, and waterfall jumping. Diving with sharks and achieving my advanced scuba diving certificate were experiences I won't forget.
I also gained some wonderful friends who I'm still in touch with now. We still visit each other and go on holidays together, and it's brilliant to have a global network of supportive alumni.
What's next for your career?
I made a decision at SGU to focus on small animal care mainly due to my love of dogs and cats—I currently own two rescue dogs of my own. I love all animals, but I'm really pleased with this decision. After graduating, I took an internship to gain experience in emergency medicine and I'm now specializing in emergency and critical care. I find it extremely rewarding because I'm in a position to help patients who come to us in distressing situations. Being able to provide comfort with medical and surgical interventions and see patients walk out of surgery after recovering from critical conditions is wonderful.
I also enjoy research and I've just submitted my first paper on stem cell transplants in dogs. I'd like to do more research in the future, and one day I might like to teach alongside practicing. It's great to have so many opportunities ahead of me.
Published April 2019
Find out if St. George's University is right for you.
https://www.sgu.edu/wp-content/uploads/2020/02/sgu-logo-grenada.svg
0
0
bpmauser
https://www.sgu.edu/wp-content/uploads/2020/02/sgu-logo-grenada.svg
bpmauser
2019-04-26 21:07:53
2021-02-02 19:46:39
Joe Masciana, DVM