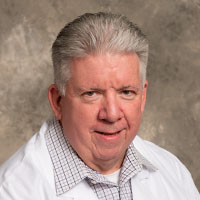 John Cush, MD
Graduation Date: 1981
United States
Baylor Research Institute
Director of Clinical Rheumatology
John J. Cush was a member of the second graduating class of St. George's University School of Medicine in 1981, at which time he received the Robert Hingson Humanitarian Award.
Dr. Cush received his undergraduate degree (BS, Biology) from St. John's University in Jamaica, New York. His clerkship and residency in internal medicine were performed at Coney Island Hospital in Brooklyn, New York, where he was named Intern of the Year and Chief Resident in internal medicine. In 1984, Dr. Cush began his rheumatology fellowship and was later appointed to the Rheumatology faculty of the University of Texas Southwestern Medical School. Since 1996 he has been Chief of the Division of Rheumatology and Clinical Immunology, Medical Director of the Arthritis Center at Presbyterian Hospital of Dallas and is a Clinical Professor of Internal Medicine at the University of Texas Southwestern Medical School. Dr. Cush serves on the Board of Trustees and is Chair of the Academic Board of Trustees for St. George's University.
During his fellowship and faculty tenure, Dr. Cush focused his research on the immunopathogenesis of rheumatoid arthritis, transendothelial lymphocyte migration and novel drug development through clinical trial research, with an emphasis on rheumatoid arthritis, the spondyloarthropathies, and biologic agents. Currently his research is focused on novel biologic therapeutics, clinical trials, early rheumatoid arthritis, measuring outcomes in rheumatoid arthritis and biologic safety.
As a result of his efforts, Dr. Cush was voted one of the Best Doctors In America and Best Doctors in Dallas by his peers. In 1998-99, the Internal Medicine Residency Program at the Presbyterian Hospital of Dallas named him Teacher of the Year. He is actively involved in patient care, teaching, medical education and clinical trials research in the rheumatic diseases.
Dr. Cush has over 100 publications on a variety of topics including rheumatoid arthritis, drug-induced lupus, spondyloarthropathies, immunotherapy, Still's disease, drug safety, biologic therapies and nutraceuticals. He has served or chaired several leadership committees for the National Arthritis Foundation and the American College of Rheumatology. He has been an editor for the American College of Rheumatology "Hotlines" series. He has co-authored two rheumatology textbooks: 1) "Rheumatology: Diagnosis and Therapeutics" (2nd edition, Lippincott, Williams & Wilkins 2005); and 2) "Rheumatoid Arthritis: Early Diagnosis and Treatment" (Professional Communications). Dr. Cush currently serves on the Arthritis Advisory Committee for the Food and Drug Administration and is Chairman of the Corporate Relations Committee for the American College of Rheumatology.
Published January 2007
Find out if St. George's University is right for you.
https://www.sgu.edu/wp-content/uploads/2020/02/sgu-logo-grenada.svg
0
0
lchartor
https://www.sgu.edu/wp-content/uploads/2020/02/sgu-logo-grenada.svg
lchartor
2021-02-25 19:51:24
2021-02-25 19:51:24
John Cush, MD