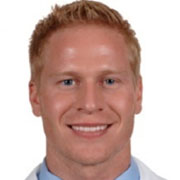 John Gillespie, MD
Graduation Date: 2010
United States
John Gillespie, MD '10, has witnessed the wonder of plastic surgery firsthand. His grandmother, diagnosed with breast cancer, underwent a double mastectomy in 2003, and upon having her breasts removed, he recalls, "she wasn't the same woman I knew before the surgery."
Not long after, though, she opted for a second operation—breast reconstruction. With it, she bounced back and "became the vibrant woman I once knew."
"She was back her smiling old self," Dr. Gillespie said. "I saw how the reconstructive surgery rejuvenated her and how it can change people's lives for the better. In some cases, patients feel as though their lives are taken from them, and plastic and reconstructive surgery can return their lives to normal and give them a sense of well-being despite their hardships."
Now a fifth-year surgery resident at Christiana Care Hospital Center in Newark, DE, Dr. Gillespie looks forward to lifting the spirits of his patients beginning this summer when he starts a plastic surgery fellowship at Temple University Hospital in Philadelphia. The field includes a wide range of operations, from body contouring, cleft lip and palate repair, repair of craniosynostosis (skull reconstruction) for newborns and reconstruction of cancer and trauma patients.
"It's almost indescribable," Dr. Gillespie said. "I went through life reaching all my goals, but I knew that this was a far-reaching goal. I was nervous about it. However, now that I've accomplished it, it's just the most amazing feeling."
Dr. Gillespie came to SGU from the University of Delaware, where he earned a bachelor's degree in biological sciences in 2006. He admits to feeling apprehensive about leaving the US to obtain his education in Grenada, a country about which he knew very little.
"Looking back on it, it was an unbelievable learning experience," he said. "It was a great place to train, and I became friends with people from every walk of life. SGU brings everybody together under one solid premise: to learn and to become a well-rounded doctor."
Dr. Gillespie gained a strong foundation in basic sciences during his two years in Grenada, and went on to New York City for his clinical rotations, predominantly spent at Methodist Hospital in Brooklyn. He shined on his USMLEs, scoring in the 90th percentile or better on each exam. When it came time for residency, Dr. Gillespie went on 12 interviews, turning down others. He was delighted to learn that he was heading home, matching in surgery at Christiana Care, his top choice.
In addition to his time there, Dr. Gillespie has done two plastic surgery rotations, one at Temple, which solidified his interest in both the field of plastic surgery as well as the institution, and another at Johns Hopkins University. The fellowship is only the latest item on his to-do list that he can check off, which he is happy to do so emphatically. He is ready for the challenge.
"Plastics gives you the ability to own the entire body," Dr. Gillespie said. "You're operating on people from head to toe, and therefore you have to know everything."
Published September 2015
Find out if St. George's University is right for you.
https://www.sgu.edu/wp-content/uploads/2020/02/sgu-logo-grenada.svg
0
0
Erin Shaw
https://www.sgu.edu/wp-content/uploads/2020/02/sgu-logo-grenada.svg
Erin Shaw
2016-12-28 18:46:25
2021-02-03 22:40:47
John Gillespie, MD