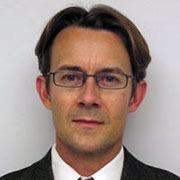 John Philpott, MD
Graduation Date: 1987
Canada
Growing up in New Brunswick, Canada, Dr. John Philpott wanted to pursue a career in the health care profession. While studying for his BS in Chemistry at Dalhousie University in Nova Scotia, he focused more on his goals and future plans.
With no medical school in New Brunswick, Dr. Philpott began the process of investigating foreign medical schools. His mother, a nurse, put him in touch with a family friend, a visiting psychiatrist at a local hospital, for some guidance. This friend had delivered several clinical lectures at St. George's University School of Medicine and spoke very highly of the institution and the education it provided.  After researching SGU further, Dr. Philpott applied to the program, was accepted and headed to Grenada.
While at St. George's, Dr. Philpott excelled at his studies. His enthusiasm and dedication were evident from the beginning, as he quickly learned the importance of efficient study habits and time management. "The key is not just the amount of hours spent studying but how wisely you use that time and how much information you retain," said Dr. Philpott. During his well deserved study breaks, he took full advantage of Grenada's outstanding climate, frequently running and playing volleyball to clear his head. Dr. Philpott's natural affinity for sports would later play an influential role in his career.
In addition to obtaining an excellent education, Dr. Philpott met many lifelong friends at St. George's. The opportunity to study in London for eight months during his elective was invaluable, as it not only exposed him to the National Health Service in the UK and the practicing and teaching in a different country, but offered him the opportunity to nurture friendships with colleagues throughout the world.
Upon graduating from St. George's University in 1987, Dr. Philpott spent three years of his residency in pediatrics at Beth Israel Medical Center in Manhattan, and his fourth year at McMaster University in Ontario, Canada. After his residencies, he worked in the Department of Nutrition Center at McMaster University, the Sports Medicine Clinic at the Hospital for Sick Children, and the Child Health Unit at Toronto Western Hospital.
Dr. Philpott is currently on academic appointment at Women's College Hospital, a teaching hospital affiliated with the University of Toronto, where he lectures and teaches residents, fellows and medical students involved with the Canadian Pediatric Society. In addition, Dr. Philpott is actively sought out as a critical resource by several professional Canadian sports teams including the national figure skating, soccer and basketball teams. He frequently works and travels with young athletes who require a physician certified to attend to their special needs.
Dr. Philpott feels very fortunate to have had the opportunities afforded him by St. George's, and credits the University for helping prepare him for a career which combines his two passions: pediatric and sports medicine. "Being involved with kids in this capacity, and seeing how their personalities are evolving is very rewarding. Working with their families is also a fulfilling aspect to this profession," said Dr. Philpott.
When asked about advice for potential medical students, Dr. Philpott said to prepare for a lot of work. "You have to be mature and independent," he said. "Having a high GPA isn't always enough." He also believes students should think ahead about where they would like to practice after graduation and find out what is necessary to apply for a license in that jurisdiction. "St. George's provides a foundation which is a critical component to completing your goal of becoming a successful physician."
Published March 2009
Find out if St. George's University is right for you.
https://www.sgu.edu/wp-content/uploads/2020/02/sgu-logo-grenada.svg
0
0
Erin Shaw
https://www.sgu.edu/wp-content/uploads/2020/02/sgu-logo-grenada.svg
Erin Shaw
2016-12-28 18:43:09
2021-02-03 22:32:55
John Philpott, MD