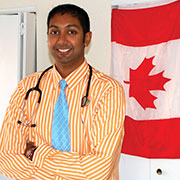 Joshua K. Ramjist, MD
Graduation Date: 2011
Canada
General surgery
Dr. Joshua K. Ramjist has never been one to shy away from trying something new. That's why back in 2007 he jumped at the opportunity to join the St. George's University of Grenada School of Medicine/Northumbria University program, for which students spend their first year of Basic Sciences at NU in Newcastle, United Kingdom.
Now a fourth-year resident completing a research year in Toronto as part of his surgery residency at Maimonides Medical Center in Brooklyn, New York, he is grateful for the choice he made.
"The SGU/NU program was hands down the best experience of my life," Dr. Ramjist said. "I would do it again in a heartbeat."
Dr. Ramjist joined the second SGU/NU class in 2007. In addition to enjoying smaller class sizes and the chance to explore a new country and continent, he also found that the experience in the UK helped him transition to Grenada, where he spent Terms 3 and 4 before moving on to clinical rotations.
"I moved to Grenada with 100 of my best friends," Dr. Ramjist said. "What I'd done in Newcastle I just did in Grenada. I already had a routine established. I was able to focus on my study skills and develop as a student, which allowed me to build on the foundation that I had."
He completed his rotations in New York City before securing his residency in Brooklyn, for which he felt more than adequately prepared.
"Moving into residency, I was able to adapt to whatever the needs were," said Dr. Ramjist. "Each step built on the other: I think I was a very good resident because I was a very good clinical student, and I was a very good clinical student because I had a very strong basic sciences foundation."
Now he is finishing the first of two research years at St. Michael's Hospital in Toronto while also working toward a Master of Science in clinical outcomes from the University of Toronto. He hopes to secure a fellowship in colorectal surgery. "Surgery is one of the few specialties that focuses on curative intent," Dr. Ramjist said. "It's a good mix of both big and small procedures. With colorectal surgery in particular, it's an opportunity to add many productive years to a patient's life."
Dr. Ramjist started the path toward a career in medicine in grade school when his parents told him that they thought he would make a good doctor. Dr. Ramjist earned an Honors Bachelor of Science from the University of Toronto in 2007, and also spent more than a year researching biotech enterprises in developing countries at the McLaughlin-Rotman Center for Global Health in Ontario. The research was published in Nature Biotechnology in 2008.
"As I learned about how competitive it is, that made me want it more," he said. "I've never been afraid of a challenge."
Dr. Ramjist implores other prospective physicians from Canada to heavily consider SGU when weighing their options for medical school. He is the founder and past president of the International Medical School Symposium, which is held each year in Toronto. Dr. Ramjist also attends area student fairs and SGU information sessions, while also interviewing and corresponding with preclinical applicants.
"SGU helped me reach whatever goals I established for myself," Dr. Ramjist said. "I know the angst that Canadian preclinical students are experiencing, so I want to bring awareness to other opportunities that exist that are completely viable."
Published August 2013
Find out if St. George's University is right for you.
https://www.sgu.edu/wp-content/uploads/2020/02/sgu-logo-grenada.svg
0
0
Erin Shaw
https://www.sgu.edu/wp-content/uploads/2020/02/sgu-logo-grenada.svg
Erin Shaw
2016-12-28 19:15:01
2021-02-04 20:08:57
Joshua K. Ramjist, MD