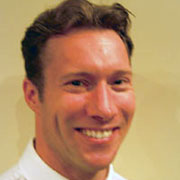 Julian Dalby, MD
Graduation Date: 2002
Ireland
After Dr. Julian Dalby graduated from high school in Dublin, Ireland, he decided not to go to college right away. He wanted to take a break from his studies because he wasn't certain on which path he wanted to embark. Instead, he joined the Irish National Cycling Team, touring throughout Europe and becoming a cycling champion. Julian's interest in physiology developed during his 13 years competing with the Irish National Cycling Team and it is what urged him to pursue a career in medicine.
In the mid 1990s, after seeing an ad in The Irish Times for St. George's University, Julian applied for admission and went for his interview. In 1996, he was accepted into St. George's University Preclinical Program, a continuum within the School of Medicine. He enjoyed being in Grenada and he took advantage of what the island had to offer. "I love doing outdoor things and Grenada is a great place for this," Julian said. He spent a lot of time outside—studying, swimming, cycling, training, and participating in a triathlon.
He completed his clinical rotations in the United States and the United Kingdom. Additionally, Julian also took an elective in tropical medicine in Guyana. His international experience taught him that "Medicine is still medicine; a body is still a body in any part of the world. The only difference is economic." Upon graduating from St. George's University in 2002, Julian completed his residency in internal medicine at East Carolina University in the United States. He returned to Grenada for a six month fellowship in histology. It's been a long, circuitous road to medicine for Julian, but a worthwhile and fulfilling journey.
Julian is the first St. George's University School of Medicine graduate to be fully registered with the Irish Medical Council (IMC). He is also fully registered with the General Medical Council (GMC) in the United Kingdom and is licensed to practice medicine in the United States. He did not have to sit for the British and Irish exams (the PLAB and the TRAS, respectively) because as a European Union citizen with a US medical license, Julian was granted full registration with both the GMC and IMC.
Dr. Julian Dalby continues his career in emergency medicine as a Senior House Officer (SHO) at St. James Hospital in Dublin—Ireland's largest hospital and a class one trauma center. "I had a great experience at SGU," Julian recalled. "The support system was very strong. After formal lectures, students would gather and talk about the class. There was a lot of peer teaching and support from the other students." Julian encourages Irish students to seriously consider St. George's. "If I had the option to attend any medical school in the world, St. George's would be my first choice. It has all worked out very well for me."
Published October 2009
Find out if St. George's University is right for you.
https://www.sgu.edu/wp-content/uploads/2020/02/sgu-logo-grenada.svg
0
0
Erin Shaw
https://www.sgu.edu/wp-content/uploads/2020/02/sgu-logo-grenada.svg
Erin Shaw
2016-12-28 19:20:07
2021-02-04 21:40:23
Julian Dalby, MD