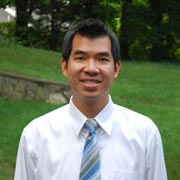 Kenneth Yeung, MD
Graduation Date: 2002
Hong Kong
Dr. Kenneth Yeung is far from his roots in Hong Kong, but at Palo Alto Medical Foundation in Fremont, California, where he practices family medicine, he's felt right at home. In a diverse community like Fremont, Dr. Yeung is able to treat patients from all backgrounds, applying the skills and training he learned while working toward his MD.
"SGU was a life-changing experience for me," Dr. Yeung said. "You have faculty members and students from all over who come together with one goal in mind—to study medicine and provide good doctors to the world. "
Prior to his stint at Palo Alto Medical Foundation, Dr. Yeung worked in family medicine at South Cove Community Health Center in Massachusetts from 2006 to 2013. There he provided care for Chinese immigrants in Greater Boston, treating underrepresented patients whose native languages include Cantonese, Mandarin, and English. He also served as a clinical instructor in medicine for Harvard Medical School. During his time in the northeast US, he earned a diploma in structural acupuncture from the Department of Physical Medicine and Rehabilitation at Harvard Medical School's Spaulding Rehabilitation Hospital.
Dr. Yeung was born and raised in Hong Kong and attended prestigious Wan Yan College Hong Kong until the age of 15. He completed his secondary education in the United States and in 1995 graduated cum laude from Concordia University in Irvine, CA, with a Bachelor of Arts in biology.
He was introduced to St. George's University by one of its graduates, Dr. Paul Mansonhing, MD '89, a family practitioner in Irvine. "I saw how he practiced medicine and he was a role model for me," Dr. Yeung said. "He became a mentor to me and helped me realize that here was a state-of-the-art medical school that was producing awesome doctors."
He enrolled in 1997, and after two years in Grenada, Dr. Yeung completed his third and fourth years at The Brooklyn Hospital Center, an affiliate of the Weill Medical College of Cornell University. He obtained a family practice residency at Brooklyn Hospital and became chief resident in 2005.
Dr. Yeung cherished his clinical experience, which set him up to be successful as a resident and practicing physician.
"SGU isn't just any Caribbean school," Dr. Yeung said. "We had a rigorous lecture program, excellent faculty, and used the same textbooks and board review books as US medical students. And then my two years of clinical prepared me well for residency and beyond."
Published February 2017
Find out if St. George's University is right for you.
https://www.sgu.edu/wp-content/uploads/2020/02/sgu-logo-grenada.svg
0
0
Erin Shaw
https://www.sgu.edu/wp-content/uploads/2020/02/sgu-logo-grenada.svg
Erin Shaw
2016-12-28 19:24:43
2021-02-05 03:16:46
Kenneth Yeung, MD