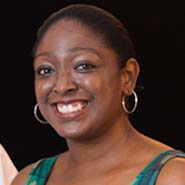 Kerricia Hobson, BSc
Graduation Date: 2008
Grenada
Even from a young age, Kerricia Hobson, BSc SGU '08, has been passionate about and fascinated by the ocean and its inhabitants. So, it seemed only natural when she decided to study marine biology at St. George's University, graduating magna cum laude with a Bachelor of Science in life sciences.
Ms. Hobson kept her passion alive as she now serves as Project Manager for the Coastal Ecosystem-Based Adaptation (EBA) Project in Grenada's Ministry of Education, Human Resource Development, and the Environment. The project is designed to reinforce deteriorating reef structures in Grenada and Carriacou through the creation and maintenance of the island's first-ever coral nurseries, a task that will have many long-term environmental and sociological benefits for Grenada and other Caribbean islands.
"SGU was really the foundation for everything. Much of what I studied at the University is integral to what I do now," said Ms. Hobson. "While I work more in the management aspect of various projects and initiatives, it helps that I have that technical background from SGU because I am able to understand the jargon used in the field, which is very useful in my position."
During Prince Harry's 2016 visit to Grenada, Ms. Hobson explained how the reef restoration project will help fuel the island's tourism and fisheries industries.
"To restore [these reefs], coastal ecosystems have proven to be less costly to implement and a better fit than hard infrastructures such as seawalls," Ms. Hobson said.
After working as a science teacher, she enrolled in SGU's School of Arts and Sciences in 2005. In addition to her studies, she served on the Public Lecturer Committee and was instrumental in developing the Undergraduate Student Government Association (USGA), serving two years as its President and making it more reflective of the student body it represented and being more involved in the lives of the students.
"Beyond being an institution where I could receive my bachelor's degree, some of the most supportive and encouraging people I've ever met have come from SGU," said Ms. Hobson. "The lecturers in SAS have always been ready and willing to do whatever was necessary to help me advance, and I can never be too grateful for that. I am still very much tied to SGU now, as a member of the Alumni Association and I will always be thankful for the opportunities that I have been afforded through being a part of the SGU family."
Published April 2017
Find out if St. George's University is right for you.
https://www.sgu.edu/wp-content/uploads/2020/02/sgu-logo-grenada.svg
0
0
bpmauser
https://www.sgu.edu/wp-content/uploads/2020/02/sgu-logo-grenada.svg
bpmauser
2017-04-17 19:13:04
2021-02-02 15:23:16
Kerricia Hobson, BSc