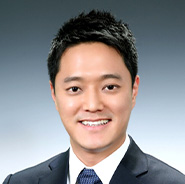 Ki (Steve) Lee, MD
Graduation Date: 2013
South Korea
Newark Beth Israel Hospital, Newark, NJ
Emergency medicine and critical care
Responsibility has followed and increased throughout Ki (Steve) Lee's time as an internal medicine resident at Newark Beth Israel Hospital in New Jersey. A year after helping the department through the COVID-19 pandemic as an intern, the St. George's University graduate is now in a managerial role, overseeing a team of medical staff and full ward of patients. This spring, Dr. Lee will become one of four chief residents in the department, helping to supervise and train its more than 40 residents.
The South Korea native looks back on the path that led him to one of the state's most high-traffic, high-impact critical care units.
St. George's University: What has it been like supervising such a critical element to healthcare at Newark Beth Israel?
Dr. Steve Lee: In your first year of residency, you're learning how to help and figuring out how things work. In my second year, you're asked to do a lot more. In my case, I'm managing a team that is overseeing the 16 patients on our floor. It's been a great experience, I have a lot of autonomy, and it has allowed me to grow as a team leader and a decision maker.
SGU: What's the best part about doing residency at NBI?
Dr. Lee: It's amazing how much clinical experience we get here. We're the only lung transplant hospital in New Jersey and the only heart transplant facility too. The most critically ill patients get transferred here, and it's up to us in the ICU and critical care unit to take care of them. We get a lot of hands-on experience, use all these state-of-the-art devices, and I feel like we learn a lot. If you do residency here at NBI, you can go anywhere else and be comfortable.
"You go to Grenada and meet all these new people on day one, and you're all there to help each other out."
SGU: You were a first-year resident during the height of the COVID-19 pandemic in and around New York City. What was that like?
Dr. Lee: COVID was very difficult. We typically have a maximum of 16 patients on our list, but at that time we were managing 30-40. Our department was running the entire hospital, and there were so many different teams on the floor—pediatricians, radiologists, and many, many others—helping out in any way that they could. What was so difficult was that patients' outcomes could change in a matter of minutes. Fortunately, for our staff, we all had each other to lean on. We were able to talk through things and we covered each others' shifts when needed.
SGU: How would you describe your experience at SGU?
Dr. Lee: You go to Grenada and meet all these new people on day one, and you're all there to help each other out. The education was great, and many of my classmates are now attendings at these major hospitals. They're doing amazing, and I feel like everyone has done great.
– Brett Mauser
Find out if St. George's University is right for you.
https://www.sgu.edu/wp-content/uploads/2020/02/sgu-logo-grenada.svg
0
0
bpmauser
https://www.sgu.edu/wp-content/uploads/2020/02/sgu-logo-grenada.svg
bpmauser
2021-05-24 16:29:02
2021-05-24 16:29:02
Ki (Steve) Lee, MD