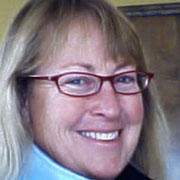 Kirsten Traul, DVM
Graduation Date: 2004
United States
Growing up in Colorado, Kirsten Traul, DVM '04, admits she had similar dreams to her fellow horse-crazy classmates—she wanted to be a professional rider. She couldn't get enough of horses then, and her attitude hasn't wavered, although she's in a different albeit rewarding role as the attending veterinarian at Premier Breeding Services, a large equine reproduction facility in southeast Denver, CO.
"It is fascinating to me because no two days are alike," said Dr. Traul. "Every day has something unusual to it that makes me stretch and grow as a veterinarian. I really enjoy working with horses, particularly with the foals. It's kind of a mix of being an OB/GYN and an emergency room doctor. It is fun."
Her affinity for horses started at age eight and she was a competitive rider throughout junior high school and high school. "A woman in the neighborhood who had a horse farm let a bunch of us kids go and ride and play with the babies," Dr. Traul recalls. "She got me completely hooked on horses."
Her love of horses evolved into a desire to care for them in the most intense way possible—as a veterinarian. She enrolled at St. George's University School of Veterinary Medicine to pursue that dream and took advantage of learning from a faculty that was both renowned and diverse. She fully embraced the Grenadian culture and appreciated the knowledge and accessibility of the professors.
"SGU taught me to think through a diagnosis and to ask the right questions," Dr. Traul said. "The experience was very hands-on and that helped you developed good observation skills."
Located just outside the SGU campus, the Elisabeth McClellan Small Animal Clinic provides outstanding care to the Grenadian community while also serving as a venue to teach St. George's University students the clinical skills necessary to be successful in the profession.
Dr. Traul completed her clinical rotations at Washington State University College of Veterinary Medicine in early January 2004.  She was hired by Washington State CVM's anesthesia department immediately after graduation. In 2006, she and her husband moved to Colorado where she was appointed to the Premier Breeding Services staff. By Dr. Traul's estimation, the organization breeds upwards of 300 mares a season, delivering 30 to 40, and stands between 15 and 20 stallions. In addition to basic reproduction services, she provides neonatal care, assists in the transfer of embryos and collects semen for shipping and freezing, as well as dealing with colics and other emergencies.
She runs a mobile veterinary service during the fall months; horses breed from January to September. In visits to her clients, Dr. Traul administers vaccinations, performs routine physical examinations, and responds to various emergencies. She is also a certified veterinary acupuncturist.
"One of the best things about SGU is the fact that it isn't a US school," Dr. Traul said. "It makes you think in a different way, and makes you a better vet. I enjoyed the experience very much."
Published April 2013
Find out if St. George's University is right for you.
https://www.sgu.edu/wp-content/uploads/2020/02/sgu-logo-grenada.svg
0
0
Erin Shaw
https://www.sgu.edu/wp-content/uploads/2020/02/sgu-logo-grenada.svg
Erin Shaw
2016-12-28 19:30:53
2021-02-05 03:33:44
Kirsten Traul, DVM