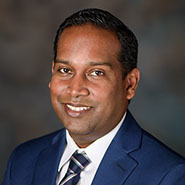 Kris Mahadeo, MD
Graduation Date: 2003
Trinidad and Tobago
MD Anderson Children's Cancer Center
Pediatric Stem Cell Transplantation and Cellular Therapy
Pediatric cancer patients are met with an inconceivable challenge at an early age, and it will have been a long journey by the time they meet Dr. Kris Mahadeo. The 2003 St. George's University graduate is the Section Chief and Medical Director of Pediatric Stem Cell Transplantation and Cellular Therapy at MD Anderson Children's Cancer Center in Houston, Texas.
In many cases, he said, it's the patients' "last hope." It's also their best hope—MD Anderson is the leading cancer center in the United States.
"A lot of times, patients were admitted and have stayed for a long period of time," said Dr. Mahadeo, who also serves as an Associate Professor of Pediatrics. "It's a process, but when children can go home, which they never imagined in their lifetime, their reaction is priceless. It's very fulfilling."
Dr. Mahadeo has been on a long journey of his own, but has found a home in Houston. He grew up in Trinidad and Tobago before he and his family moved to New York City when he was 8. He went on to graduate cum laude from Adelphi University in New York with a Bachelor of Science in biology.
With an eye on studying medicine, he applied to 10 medical schools, with St. George's University as the only international school. Through current students and graduates, he learned that SGU had "all the elements of education" for students to be successful, as well as a track record of placing graduates in highly competitive residency programs.
"There are so many graduates throughout the country who are quite successful," he said. "Sometimes you don't even realize your doctor is an SGU graduate."
From day one, Dr. Mahadeo focused on obtaining a competitive residency, committing himself to his studies during his basic science years in Grenada and then two clinical years in the United States. He entered SGU with primary care as his likely career path, but was drawn to immunology over time, particularly as it relates to cancer care.
Dr. Mahadeo's road to a career in hematology and oncology continued as he completed his pediatric internship year at Maimonides Children's Hospital in New York City, and finished his residency at the Children's Hospital at St. Peter's in New Jersey. He opted to broaden his knowledge—and strengthen his resume—by earning a Master of Public Health from the University of Medicine and Dentistry of New Jersey.
Dr. Mahadeo then advanced to a pediatric hematology oncology fellowship at Children's Hospital at Montefiore/Albert Einstein College of Medicine, and a pediatric blood and marrow transplantation fellowship at Duke University Medical Center.
His exposure to an international student body, faculty, and patient pool along the way has prepared him for his career in pediatrics.
"To meet people from across the world in Grenada, and then to work alongside classmates from other schools in the US, I think it shapes your perspective on health care," Dr. Mahadeo said. "The global experience is really helpful for me because in this specialized field, we're taking care of patients from all over, and we have to understand what's endemic in those areas and treat patients in alignment with their values."
Before joining MD Anderson, he spent three years as an Assistant Professor of Pediatrics at Albert Einstein Cancer Center and an Attending Physician and Director of Marrow and Blood Cell Transplantation at the Children's Hospital at Montefiore in New York City. He served a similar role at Children's Hospital Los Angeles as Director of Quality Management and Attending Physician in Los Angeles. Dr. Mahadeo's extensive research has focused on allogeneic stem cell transplantation and immunotherapy for solid tumors and genetic diseases, as well as critical care outcomes for children undergoing therapy. He currently serves as co-chair of the HSCT sub-group of the Pediatric Acute Lung Injury and Sepsis Investigators (PALISI).
The success stories are reminders of why he has gone down this career path. There's the high school student whose transplant gave her a second life, the patient from Angola who messages him every year, the time a child who, after his third transplant, met his unrelated donor at halftime of a celebrity soccer game.
And the times when his pediatric patients can go home.
"We do a discharge parade, the staff and patients come out, and there's confetti," he said. "It's very rewarding."
Published November 2017 
Find out if St. George's University is right for you.
https://www.sgu.edu/wp-content/uploads/2020/02/sgu-logo-grenada.svg
0
0
bpmauser
https://www.sgu.edu/wp-content/uploads/2020/02/sgu-logo-grenada.svg
bpmauser
2017-11-02 21:25:35
2021-01-20 19:33:53
Kris Mahadeo, MD