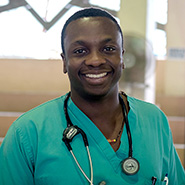 Lewis Musoke, MD
Graduation Date: 2016
Kenya
Louis Stokes Cleveland VA Medical Center
Infectious Disease Fellow
As an infectious disease fellow at Louis Stokes Cleveland VA Medical Center, Lewis Musoke, MD '16, is combating two pandemics at once—COVID-19, which the world has grappled with for nearly two years, and the still prevalent human immunodeficiency virus, better known as HIV.
Growing up in Kenya, Dr. Musoke was all too familiar with HIV. It was not only in the community but in his household and his circle of friends. That's why he has committed his career to not only caring for patients afflicted with such diseases but making sure that his community is equipped with the information and resources they need to prevent it.
The St. George's University graduate shared what he sees as similarities between the two pandemics, and the role he thinks the greater community can play to assist in the fight.
SGU: What do you think is the biggest issue in the HIV community?
Dr. Musoke: There's a lot of stigma when it comes to HIV, and while we've come up with good medications to treat and suppress the virus, we still haven't gotten to the point where we can sit down and talk about it the way we talk about diabetes or high blood pressure without feeling ashamed. And if you're not talking about it, then in all likelihood you're not thinking about it.
This percolates even to the physician level where people are not even testing for it as frequently as they should. We've become good in screening for things like colon cancer and breast cancer, but we're still falling way short of the mark for screening for HIV, and it shows in high prevalent areas where we're still having a lot of new infections.
SGU: What parallels do you see between the HIV/AIDS crisis and the ongoing COVID pandemic?
Dr. Musoke: The viruses are different but the principles are the same. One of the things that we can learn from HIV is the importance of getting the community engaged and educated. I think a problem that we have in this country and in the world is there's a lot of misinformation, even at the provider level. It's affecting our ability to be able to respond.
Back in the 1980s, the lack of education and desire to talk about HIV was what inhibited the progress of treating HIV. But the government shifted and now basically any HIV positive patient in the country, whether or not they have a job or access to healthcare, has pretty much subsidized healthcare through federal funding. My hope is that—as providers, physicians, patients, and the community—everybody understands the seriousness of these pandemics, and that we're better equipped to tackle it as a whole. You can't really isolate them to one part of the country. Everyone has to get involved, from all age groups or from all walks of life.
"SGU has a special place in my heart. I wouldn't have done anything differently."
SGU: What drew you to specializing in infectious disease?
Dr. Musoke: Growing up in East Africa, you're exposed to HIV from a very young age. HIV was—and still is—a prevalent issue not just in the community but within your household and circle of friends. What was inspiring to me was how, as drug development and treatment options improved, I started to appreciate the role that community outreach played. Some of the clinical trial data and outreach strategies that were implemented in East Africa ended up being used in the United States and around the world.
What solidified this career path for me was a public health field practicum through Boston University that turned out to be in Kenya. It was in a beautiful area right at the base of Mount Kilimanjaro. I had never lived there, but I had probably driven past it as a child. The purview of the project was to evaluate public health interventions that had been placed in regard to improving access to water. Doing that made me realize the importance of public health, and also that a lot of those health issues were infectious disease related
SGU: How well did you fit in at SGU?
Dr. Musoke: It was clear very early on that SGU was the perfect fit. I went there and knew six or seven people from Kenya, but then you got to meet people from different parts of the world. It was beautiful to learn about their experiences and the different paths they were on. It was a strange sense of almost feeling like I was home.
I made a lot of close friends, and I even met my wife (Chandula Seneviratne, MD '16). For those reasons and more, SGU has a special place in my heart. I wouldn't have done anything differently.
SGU: As an international student, did you have the support you needed?
Dr. Musoke: The basic sciences training was rigorous, but you have a lot of support from the Department of Educational Services. If you're struggling with something, you have a good support system to help you get back on track. And SGU doesn't create this illusion that it's going to be easy. They make you work for it, and I think that's key. In my clinical rotations, a lot of the physicians were very impressed with how hard-working and diligent we all were, and I think that came from training at SGU. I think that if you put the work in and network, you're going to make it far, if not further than any US school graduate.
– Brett Mauser
Find out if St. George's University is right for you.
https://www.sgu.edu/wp-content/uploads/2020/02/sgu-logo-grenada.svg
0
0
bpmauser
https://www.sgu.edu/wp-content/uploads/2020/02/sgu-logo-grenada.svg
bpmauser
2021-11-18 17:26:44
2021-11-18 17:37:33
Lewis Musoke, MD