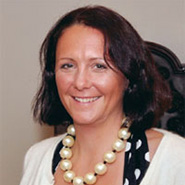 Lian Doble, DVM
Graduation Date: 2008
United Kingdom
Dr. Lian Doble is originally from the United Kingdom and earned her Bachelor of Science in equine science from Imperial College London. Upon completing her undergraduate career, she spent a few years working on farming development and food safety and security. Although Lian found it exciting, she wanted the professional qualification as a veterinarian because it would bring a different perspective to scientific research. She explains, "After a few years of working I looked into veterinary medicine and saw all the opportunities. I was very keen on helping outside the actual practice and more in research and development."
"The moment I arrived in Grenada I knew it was a special place," describes Lian on her first impression of the island. "The school and people of Grenada were very welcoming. Maybe that's because it is on a small island, but you get a family feeling from St. George's." In addition to receiving St. George's University's International Peace Scholarship, Lian received an Outstanding Student Award from the School of Veterinary Medicine for each year of Basic Sciences and the Fort Dodge award for Excellence in Large Animal Medicine.
"Veterinary school can be stressful, but the environment is very conducive to studying and learning. You have the beach to relax you and a lot of support. Not once did I feel deserted or alone." In addition to small class a size, Lian explains, "If you need any help you always have someone to go to. You never feel as though you are inconveniencing staff. I think we also get better lecturers— at other universities lectures often come second to other responsibilities of staff such as research." In addition to early handson clinical experience, Lian took part in research activities through the on-campus research institute, Windward Islands Research and Education Foundation (WINDREF).
Lian took advantage of St. George's strong international contacts by completing a master's program at Makerere University in Uganda in conjunction with St. George's. "SGU worked with Makerere University to set up this exchange so I could complete half my master's in Uganda and half in Grenada," she explained. She opted to complete her final year of clinical study at one of St. George's affiliated hospitals at The Royal (Dick) School of Veterinary Medicine, University of Edinburgh, where she had exposure to health care in a different learning environment.
In 2009, Lian was awarded MRCVS by examination. Currently enrolled as a PhD student at the University of Edinburgh, although based full-time in Kenya, Lian is sponsored by a Biotechnology and Biological Sciences Research Council Doctoral Training Grant. She expects to earn her PhD in September 2012 and hopes to gain some postdoctoral assignment for a couple of years to solidify her research experience. Dr. Lian Doble states, "I would love to continue to conduct research in the field of zoonotic diseases. It would be my dreams come true to work with a big international agency dealing with veterinary public health, and how animal and human health related issues can be improved upon."
Published January 2011
Find out if St. George's University is right for you.
https://www.sgu.edu/wp-content/uploads/2020/02/sgu-logo-grenada.svg
0
0
Erin Shaw
https://www.sgu.edu/wp-content/uploads/2020/02/sgu-logo-grenada.svg
Erin Shaw
2016-11-17 03:38:23
2021-01-20 21:56:12
Lian Doble, DVM