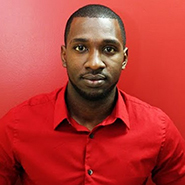 Livonne Charles, BA
Graduation Date: 2010
Grenada
Terra Caribbean
Manager of Real Estate Valuations and Advisory Services
What do you enjoy most about your current role?
"I'm responsible for doing real estate valuations of commercial properties such as hotels, office and retail buildings, marinas, as well as residential dwellings and land valuations. It's a very difficult job but I love it. As one of if not the most qualified valuation managers with over 10 years of experience in real estate in Grenada, I have to be completely unbiased in my assessment of the property I'm reviewing. I enjoy both aspects of my job, which first starts with trying to foster a good relationship with my clients, while working with my staff on data collection, property inspections, and creating valuation reports detailing a properties' worth. The other aspect involves offering other real estate advisory services such as rental reviews, highest and best use, and market studies. I analyze the data, going through various scientific methodologies to provide informed assessments for my clients."
How would you describe your SGU experience?
"My experience at SGU was amazing. It was the perfect blend of education and socialization. SGU's diversity makes it stand out, and the relationships I've built with my colleagues while there is one of my biggest achievements and something that I will always cherish. Our professors were an incredible mix of local, regional, and international faculty, so you didn't just get taught what was on the curriculum. They also shared their global experiences. I also had the added benefit of working while attending the University, which really helped me to put what I learnt at SGU into the practical field much sooner."
How did you get into your field?
"When I started at SGU, I wasn't exactly sure where I was headed but I did know that my two interests were computer science and business. However, after speaking with Colin Dowe, Associate Dean of Enrollment Planning, he encouraged me to sign up for the Management and Information Systems (MIS) program—advice I am forever grateful for. MIS is one of the best programs, as it provided just the right combination of my interests and allowed me to diversify myself in both my professional and personal life."
What's your next step?
"I'm in the process of attaining full qualification in the area of valuations under the Royal Institution for Chartered Surveyors (RICS). While I already have several certifications under the RICS, obtaining full qualification and membership will allow me to continuously produce the best service to my clients and also allow me to work anywhere in the world that the RICS is accepted. Additionally, during my fourth year at SGU, I started a company called SpiceVibes. It's a media and technology company that offers services in social media management, photography, videography, web design, database design, and even provides services in other islands. After a successful seven years, I then got the opportunity to start a vacation rentals and concierge company, Summer Direct, along with some other incredible partners. With the success of both companies, and the experience I've attained, I've decided to start another company with plans to surpass the ones before. My favorite quote is 'Go Beyond'. It's similar to the SGU motto 'Think Beyond'. I chose it because now that I am in the real world I have to 'Go Beyond'."
Published August 2018
Find out if St. George's University is right for you.
https://www.sgu.edu/wp-content/uploads/2020/02/sgu-logo-grenada.svg
0
0
rpetersgmail
https://www.sgu.edu/wp-content/uploads/2020/02/sgu-logo-grenada.svg
rpetersgmail
2018-08-29 13:34:45
2021-01-28 21:30:13
Livonne Charles, BA