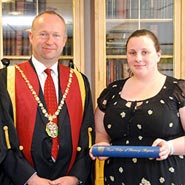 Mary Parry, DVM
Graduation Date: 2013
United Kingdom
The news came in, and a wave of emotions overcame Mary Parry—joy, relief, excitement, pride. At Vetsim 2013 held at the University of Nottingham, the very institution at which she began her journey to a Doctor of Veterinary Medicine, she learned that she had passed the rigorous Royal College of Veterinary Surgeons statutory examination, completing her lifelong mission of becoming a member of the Royal College.
"It was an incredible feeling," Dr. Parry said. "I'd wanted to be a veterinarian since I was 3 years old so it truly was amazing."
Mr. Austin Kirwan, assistant dean for UK clinical affairs at St. George's University, saw Dr. Parry come full circle. In 2008, he interviewed her, then a prospective student, for the University of Nottingham's pre-veterinary science program, a gateway to earning her Doctor of Veterinary Medicine at SGU. Then at Vetsim, a conference at which prospective vet students can strengthen their application through clinical enhancement courses, Mr. Kirwan stood alongside Dr. Parry as she received the news.
"Mary has a dogged determination to achieve," he said. "This is what St. George's does—it takes people who are told they aren't going to achieve something and turns them into veterinary surgeons. To witness it truly gives you the chills. For her to achieve what she's achieved opens all these doors for her."
Dr. Parry grew up in the Lake District in Cumbria, United Kingdom, and attended Sedbergh School, a co-educational boarding school. She entered the pre-veterinary science program at the University of Nottingham in September 2008 before going on to the four-year DVM program at SGU. In addition to her studies, Dr. Parry was president of SGU's British Equine Veterinary Association (BEVA) student group, and students can take advantage of such opportunities as the dentistry and farriery wet labs, which are run through the University's Large Animal Society (LAS).
She credits SGU's Department of Educational Services (DES) for its guidance throughout her three years in Grenada.
"The DES at St. George's is really helpful," Dr. Parry said. "Visiting with the students that help there helps you focus and they're happy to review the material with you to make sure you understand it. The professors also make themselves readily available outside of class."
She went on to complete her clinical rotations at the Royal (Dick) School of Veterinary Studies at the University of Edinburgh. Dr. Parry appreciated the practical aspect of the veterinary medicine program at SGU, which she felt prepared her for her clinical rotations at Edinburgh.
"I would recommend anyone to go to SGU without a shadow of doubt," Dr. Parry said. "I'm convinced that, had I gone to a UK vet school, I probably wouldn't have qualified. The education, experience, and support that I obtained at St. George's was crucial to my success."
A longtime horse enthusiast, she looks forward to continuing her career in diagnostic imaging at an equine practice. Dr. Parry has seen practice at The Dick Vet Equine Hospital in Easter Bush, as well as Westmorland Equine Vets, Church Walk Veterinary Centre, Alexander Veterinary Centre, and Preston & Bramley, all in Cumbria. In addition to her RCVS qualification, she has gained certification in both equine clinical nutrition and clinical small animal dentistry.
Published July 2016
Find out if St. George's University is right for you.
https://www.sgu.edu/wp-content/uploads/2020/02/sgu-logo-grenada.svg
0
0
dbriggs
https://www.sgu.edu/wp-content/uploads/2020/02/sgu-logo-grenada.svg
dbriggs
2016-07-05 18:16:45
2021-01-19 17:18:45
Mary Parry, DVM