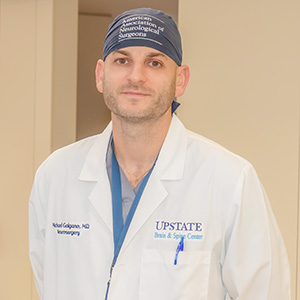 Michael Galgano, MD
Graduation Date: 2010
United States
Upstate Medical University, Syracuse, NY
Neurosurgical Spine Specialist
For Upstate Medical University neurosurgical spine specialist Michael Galgano, MD '10, with each operation he performs comes the opportunity to drastically improve the course of a person's life.
There was the 40-year-old woman whose adolescent scoliosis had gone untreated. Debilitating back pain prevented her from completing workdays or from playing with her young daughter. A corrective procedure returned her to normal activity level.
Then there was the 17-year-old lacrosse player who suddenly had difficulty walking. It was discovered he had an osteoblastoma that was crushing his spinal cord, slowly paralyzing him. Dr. Galgano and his team removed the tumor and reconstructed his spinal column, allowing him to return to lacrosse a few months later after a remarkable recovery.
It's that kind of impact that the 2010 St. George's University graduate set out to make when he entered medical school, and what excites him the most about his role at Upstate.
"I treat a population of patients with a wide array of complex spinal disorders, ranging from tumors of the spinal cord and vertebral column, to scoliosis and other deformities," Dr. Galgano said. "I am drawn toward these types of surgeries that require a significant amount of pre-surgical planning and strategizing. Each complex case I do has its own unique spin, and requires some degree of creativity to achieve an ideal outcome. Improving the quality of life in my patients is ultimately what drives me. It is difficult to get bored with this job."
At Upstate, located in Syracuse, NY, his responsibilities are many—assistant professor of neurosurgery, director of spinal oncology and reconstructive spinal deformity surgery, as well as the medical school neurosurgery clerkship program. Although Dr. Galgano sub-specializes in spine surgery, he also treats neuro-trauma, in addition to brain tumors.
Four days a week, Dr. Galgano rounds on his inpatients before logging six- to 10-hour sessions in the operating room on surgical procedures. As a professor, he holds weekly didactic learning sessions for which he lectures to the university's neurosurgery residents and medical students.
"When I run into the occasional SGU student completing a sub-I at our hospital and they find out I am also an alumni, their eyes light up," he said. "I tell them all to be proactive, and to outwork everybody they can on their rotations. At the end of the day, it boils down to being nothing short of determined to match into the field you are most passionate about, whether that is family medicine or neurosurgery."
Dr. Galgano performs his craft and extensive research at the very location where his neurosurgery career began as a resident in 2010, weeks after graduating from SGU. He spent seven years in residency at Upstate, and even earned the Outstanding Neurosurgery Resident of the Year Award. In 2017, he went on to complete a complex and oncological spine surgery fellowship at Brown University in Providence, RI.
Dr. Galgano had always had his mind set on entering neurology, but the surgery element came into focus as a medical student when he rotated with general surgeons at Overlook Hospital in New Jersey—one of SGU's vast network of clinical training sites. So, for his career, he combined his two passions.
"The rotation centers I went to were fabulous," he said. "Rotating at a number of different hospitals exposes you to a wide variety of pathology. Instead being at a single institution, you see a diverse case load and patient population, and learn from physicians with different backgrounds. You grow comfortable working with a new set of instructors every few weeks. It keeps you on your A-game."
Dr. Galgano added: "During neurosurgical training, the more surgeons you get to experience operating with, the better surgeon you become. You take a bit of knowledge from each mentor, and incorporate concepts and techniques you learned from them into your style. That's kind of the way I look at SGU. We are taught medicine from doctors all around the world, increasing the diversity of our experience. SGU really is an all-star medical school. There is no doubt that our students graduate ready to hit the real world. SGU offers not only a medical education, but a unique and profound life experience. The end product of having received a medical education at SGU is something to be proud of."
Published December 2019
Find out if St. George's University is right for you.
https://www.sgu.edu/wp-content/uploads/2020/02/sgu-logo-grenada.svg
0
0
bpmauser
https://www.sgu.edu/wp-content/uploads/2020/02/sgu-logo-grenada.svg
bpmauser
2019-12-05 17:12:39
2021-02-03 20:59:24
Michael Galgano, MD