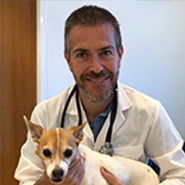 Michael Sanwald, MBA
Graduation Date: 2013
United States
As a veterinarian, Michael Sanwald was trained to treat a wide array of animals, and to create happier and healthier families as a result. But to run a practice of his own, it required more than that. He needed some business sense.
For that, he turned to St. George's University, from which he earned his Master of Business Administration in 2013. Now the Co-Founder and Chief Veterinary Officer (CVO) of Fetch My Vet, Dr. Sanwald has found that the experience has made a significant impact on his veterinary practice.
"My MBA and DVM dovetail into every portion of my role as CVO. I am involved in all aspects of the company, from recruiting veterinarians into our network to being the in-house expert when it comes to the business of veterinary medicine for our team," stated Dr. Sanwald. "Therefore, my MBA plays an invaluable part in what I do, including developing marketing programs for our clients and even working on the financial aspects with our accounting department to set reimbursement rates on the wellness plans we designed. These are all aspects of everyday life in which my MBA is utilized."
After completing his bachelor's degree at the University of Findlay in Ohio, Dr. Sanwald made his dream of becoming a veterinarian a reality in 2003 by obtaining his Doctor of Veterinary Medicine from Ohio State University. He later moved to Virginia, where he spent more than a decade at the Banfield Pet Hospital, earning national merit awards for Best Growth to Plan in 2007 and 2010. In setting off on his own, Dr. Sanwald's focus swung to the business side of veterinary medicine, prompting him to pursue an MBA from SGU.
"I chose SGU for my MBA because of the unique offering in Multi-Sector Health Management and because it caters to the specifics of medicine and veterinary medicine," said Dr. Sanwald. "The program was 90 percent online, which allowed me to run the practice that I currently owned, while getting my degree. Additionally, I would have the opportunity to fulfill my two residency requirements on the island, and I felt that since SGU was one of the world's largest medical schools, the exposure to the resources used to teach their medical students would be a great addition to my current knowledge base."
Even though he specialized in small animal medicine, Dr. Sanwald didn't want to limit himself and now treats patients ranging from exotics to traditional pets. He also recruits and trains veterinarians to provide care to client's pets in their homes throughout Florida, the Southeast, and even nationwide.
Currently, Dr. Sanwald's plans surround launching a nationwide in-home veterinary service throughout the United States, but he often finds himself thinking of ways to retire to Grenada and become part of the SGU community. He visualizes one day working with the veterinary community both on the island and the University to improve the overall health care of the region and support its veterinary medicine and MBA programs.
"While on the island, experiencing the local culture was absolutely incredible. Grenada is beautiful and its people are nothing short of that," praised Dr. Sanwald. "Over the period of my two residencies, I was on the island for two weeks each time but I wanted to explore more of it and stay longer. My time there also left me trying to understand ways in which we can give back to areas in this world that don't have the medical access and benefits that we take for granted in the US. Giving back and being part of a community were themes that I left the island wanting to explore more of in whatever avenues life took me."
– Ray-Donna Peters
Find out if St. George's University is right for you.
https://www.sgu.edu/wp-content/uploads/2020/02/sgu-logo-grenada.svg
0
0
rpetersgmail
https://www.sgu.edu/wp-content/uploads/2020/02/sgu-logo-grenada.svg
rpetersgmail
2018-02-02 13:47:10
2018-02-05 18:48:59
Michael Sanwald, MBA