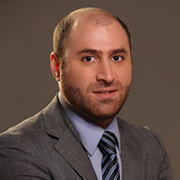 Michel P. Nawfal, MD
Graduation Date: 2003
Lebanon
Dr. Michel P. Nawfal is a prescribing clinical psychologist in Lebanon, treating patients that suffer from psychiatric and psychological disorders and providing a much-needed service in a country that has endured 30 years of war and political unrest. He has extensive research and teaching experience. He currently lectures at Notre Dame University and the Lebanese American University, and is also a guest lecturer at the American University of Beirut.
Dr. Nawfal has lived, and continues to live, a very worldly life. He was born in Beirut, Lebanon, but spent much of his time in Paris, France and New York, United States. Studying at a school such as St. George's University, with its international focus, was a wonderful opportunity for someone who wished both to study medicine and to travel. He believes that SGU provided him with a strong foundation in medicine, friendships with people from all over the world, and a confidence that stemmed from experiencing life abroad.
"Given the chance to do it all over again, I wouldn't do it any other way," he said.
Prior to beginning his medical studies at St. George's University, Michel earned a bachelor's degree in biology at American University of Beirut, and he received a master's degree in clinical psychology from that same University upon completion of his Doctor of Medicine. In 2006, he received the Sheikh Fawzi Azar Award for a paper about whether or not the MMPI-2, the most widely used personality test in the world, could be used effectively in the Middle East. Since 2005, Michel has been a member of the American Psychological Association and the Lebanese Psychological Association, and is also registered with the Lebanese Order of Physicians.
Michel makes volunteer work a staple of his medical career. He received the UFE medal in 2007 from the Union of the French outside France for his help in evacuating European citizens who were living in Lebanon during the time of the Lebanon-Israel War of 2006. He provided evacuees with medical treatment and psychological support. From 2008 to 2010, Michel was recruited by Eli Lilly Pharmaceuticals and has been appointed as a regional medical advisor for Neuroscience and Psychiatry covering the Middle East and North Africa (15 countries).
Part of his research interest was brain activity. He previously worked on a brain study measuring activity patterns in running individuals using PET scanning, a study that was published for the American University of Beirut at a proceeding in Singapore in 2007, titled "The Importance of Bio-Imaging Brain Activity During Exercise." Dr. Nawfal is a known public figure in the field of mental health as he is very frequently on Lebanese and international television shows, including as a psychological consultant for both NBC's Middle Eastern version of The Biggest Loser as well as Abu Dhabi TV's famous show Ton of Cash.
Published September 2013
Find out if St. George's University is right for you.
https://www.sgu.edu/wp-content/uploads/2020/02/sgu-logo-grenada.svg
0
0
Erin Shaw
https://www.sgu.edu/wp-content/uploads/2020/02/sgu-logo-grenada.svg
Erin Shaw
2016-12-07 18:58:21
2021-01-21 14:11:28
Michel P. Nawfal, MD