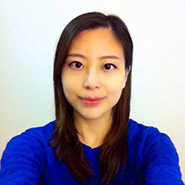 Min Jung Kang, MD
Graduation Date: 2013
South Korea
Group Practice
Pediatrics
More than a decade ago, Min Jung Kang, MD SGU '13, set off for the United States to continue her studies, with hopes of practicing medicine there one day. Having created a foundation for her future at St. George's University in Grenada, she is thriving in a group pediatrics practice in Pennsylvania, having completed her residency at Elmhurst Hospital Center in New York City.
Dr. Kang was born in Seoul, South Korea, and raised in Osaka, Japan. She eventually went on to earn her bachelor's degree at the University of California at Berkeley, and her yearning to help people led her to SGU, citing its clinical training opportunities in the United States and high residency match rate.
She came to Grenada and quickly found colleagues with whom she could live—on campus and off—as well as depend on. Dr. Kang enjoyed the vibrant campus and how it overlooks the beach and Caribbean Sea. With high marks in her coursework and step exams, in 2014 she secured a highly competitive postgraduate position, joining hundreds of her fellow classmates in residency.
Dr. Kang recommends St. George's University for those who are committed to becoming a physician and practicing in the United States.
Published October 2017 
Find out if St. George's University is right for you.
https://www.sgu.edu/wp-content/uploads/2020/02/sgu-logo-grenada.svg
0
0
bpmauser
https://www.sgu.edu/wp-content/uploads/2020/02/sgu-logo-grenada.svg
bpmauser
2017-10-10 20:13:02
2021-01-20 19:11:39
Min Jung Kang, MD