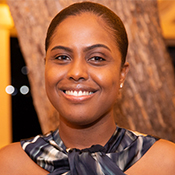 Myanna Charles
Graduation Date: 2016
Grenada
Grenada Ministry of Health
Acting senior medical officer and member of the National COVID-19 sub-committee
As acting senior medical officer and member of the National COVID-19 Sub-committee in Grenada's Ministry of Health, Myanna Charles, MD '16, MPH '21, responded to the call to serve her country at a very critical time.
Tasked with limiting community spread and preventing as much suffering as possible caused by the COVID-19 virus, Dr. Charles recalled the long days and late nights spent working to ensure that Grenadians had the tools and education necessary to stem the impact of COVID.
Even though there were many challenges, she shared with SGU News that being able to provide technical support and advice in such an influential capacity to a people and a country that has given her so much is what continues to fuel her dedication to her job and to give back to Grenada.
St. George's University: What motivated you to step up during such a crucial time in your country?
Dr. Charles: This might sound very cliché, but I am a child of the soil. Although it was a heavy call, I responded because I'm dedicated to serving the Grenadian people. In the height of the outbreak, there was no rest, our team was working seven days a week to keep our citizens safe. This country and University have afforded me the opportunity to study and practice medicine and public health. It seems only natural that I would want to give back without hesitation to the people, who have allowed me to achieve my dream of becoming a physician.
SGU: What are some of your responsibilities as part of Grenada's COVID-19 public health response?
Dr. Charles: In collaboration with and under the leadership of the chief medical officer, Dr. Shawn Charles, MD '17, MIB '07, MBA '08, I provided technical advice on public health measures at the ports of entry and in the community. These included testing requirements, entry forms for travel authorization and health declaration, and quarantine requirements for travelers. I also helped put into place measures to curb community spread, address vaccine hesitancy, and increase uptake in vaccinations. I also assisted with curfew measures, contact tracing, and quarantine/isolation recommendations.
SGU: What do you find to be the most fulfilling aspect of your job?
Dr. Charles: Being able to practice an upstream approach to medicine and doing so in my own country. This approach has given me the opportunity to look at and address the root causes and social determinants of health. In doing so, I'm able to improve health and outcomes at a community and country level rather than at an individual level through policy and program management. Instead of treating the disease of individual patients and sending them back to the same environment, I am now able to look at where these patients are coming from and why they have a particular ailment—so that it never happens again. Preventive medicine is dear to me but being able to do so in my home country and for my people means everything to me.
SGU: How well has SGU prepared you for your journey as a physician?
Dr. Charles: My experience at SGU has been instrumental in who I am today. I particularly recall my clinical years in the United Kingdom. The experience there was integral to building up my interpersonal skills but also implanted that preventive approach to medicine in me. It also allowed me to cultivate a network of amazing friends and colleagues throughout the region. Networking is extremely important and I'm now able to tap into many of those resources today.
SGU: Any plans or future projects you'd like to share?
Dr. Charles: I intend to pursue my PhD and to continue my research on carcinogenic exposures. My hope is to improve health literacy in Grenada through effective health education one day, which can have a huge impact in disease care and prevention. People need to be more aware of their health and the importance that lifestyle measures play in the prevention and treatment of certain diseases.
SGU: What advice would you give to anyone considering becoming a doctor at SGU?
Dr. Charles: I want to encourage others to be more open to new experiences within the field of medicine. There is so much to explore so don't be afraid to step out of your comfort zone.
Find out if St. George's University is right for you.
https://www.sgu.edu/wp-content/uploads/2020/02/sgu-logo-grenada.svg
0
0
lchartor
https://www.sgu.edu/wp-content/uploads/2020/02/sgu-logo-grenada.svg
lchartor
2022-03-24 12:37:56
2022-04-13 10:51:41
Myanna Charles