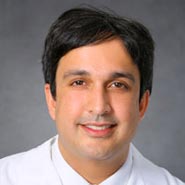 Nadir Ahmad, MD, FACS
Graduation Date: 2000
United States
On one hand, Nadir Ahmad, MD, FACS, SGU '00, practices what only a select group of physicians do—Otolaryngology or ENT—ears, nose, throat, head, face, and neck. The scope of this specialty—from head and neck surgical oncology, thyroid and parathyroid surgery, and skull base surgery to microvascular reconstructive surgery – is as broad as can be.
"The breadth of what ENTs do is remarkable," said Dr. Ahmad, chair of the Division of Otolaryngology—Head and Neck Surgery at Cooper University Health Care and the Cooper Medical School of Rowan University in Camden, NJ. "There is never a dull moment in our field. Head and neck anatomy is the most intricate anatomy in the entire body. It requires both finesse and skill to operate in this region, as there is very little margin for error. Because the five senses of the body are housed in the head and neck, as well as the important functions of speech, swallowing and breathing, medical and surgical care in this region can be both demanding and challenging."
US News and World Report named Dr. Ahmad to its list of "Top Doctors" in 2011 and 2012, placing him in the top 10 percent of US otolaryngologists. One of his main interests is in robotic surgery. He performs transoral robotic surgery (TORS), which is an innovative surgical approach to difficult to access tumors in the throat and voice box region.
His main goals are to establish an otolaryngology residency program at Cooper in the near future. He's also helping develop the clinical portion of the medical curriculum at Cooper, which welcomed its first matriculating class in July 2012.
"Cooper is transitioning into a new era. Previously, it was a large tertiary care, academic-affilitated hospital," Dr. Ahmad said of Cooper, which has recruited several SGU grads for various departments and divisions at Cooper. "Now it has its own medical school and is a major academic medical center."
Prior to his tenure at Cooper, Dr. Ahmad spent four-and-a-half years as an Assistant Professor and Attending Surgeon in the Department of Otolaryngology-Head & Neck Surgery at the Virginia Commonwealth University (VCU)/Medical College of Virginia (MCV) Medical Center in Richmond, VA. He was actively involved in residency training during that time. During his time at MCV, he was also a clinical assistant professor in the Department of Dermatology.
He's been drawn to otolaryngology since he was very young. His father is an otolaryngologist, who has been practicing in Michigan for over 30 years. Dr. Ahmad's drive to follow in his footsteps only picked up steam at SGU.
"My father was my main inspiration," Dr. Ahmad said. "Then when I went to medical school at SGU and was exposed to head and neck anatomy and physiology, it solidified my career path more, and once I did my rotations and electives, that sealed the deal for me."
That ENTs are both a physician and surgeon for their patients made it an especially attractive specialty.
"There are very few fields where you're both," he said. "ENTs are all-encompassing doctors for their patients, and we see both genders and all age groups."
Upon earning his MD, Dr. Ahmad did his general surgery internship at Brown University/Rhode Island Hospital in Providence, RI. From there, he went on to otolaryngology residency at the Henry Ford Health System in Detroit, MI, and was chief resident in 2006-2007. He was awarded the resident of the year for the Henry Ford Health System in 2007. He then completed his fellowship in head and neck oncologic surgery, microvascular reconstructive surgery, and cranial base surgery at the one of the premier programs in the country, the Vanderbilt University Medical Center in Nashville, TN.
Dr. Ahmad is a diplomate of the American Board of Otolaryngology, a fellow of the American College of Surgeons (FACS) and a fellow of the American Head and Neck Society. He is also a member of the American Academy of Otolaryngology-Head & Neck Surgery and the Society of Robotic Surgeons.
Dr. Ahmad is originally from Pakistan. He recently was invited on three separate occasions as a visiting surgeon at Indus Hospital and Dow University Health Sciences/Civil Hospital, both in Karachi. During that time, he performed approximately 30 surgeries at no cost to the patients. This past December, he was the keynote speaker at the Pakistan Society of Otolaryngology Annual Meeting.
Dr. Ahmad looks back fondly on his experience at SGU.
"St. George's University positioned me to have a long and successful career in otolaryngology," he said. "Grenada was an ideal environment to work hard and play hard. I had a great experience and it was great to see the development of the True Blue campus. It's fantastic to see how much the University has expanded."
Published July 2016
Find out if St. George's University is right for you.
https://www.sgu.edu/wp-content/uploads/2020/02/sgu-logo-grenada.svg
0
0
dbriggs
https://www.sgu.edu/wp-content/uploads/2020/02/sgu-logo-grenada.svg
dbriggs
2016-07-11 19:18:14
2021-01-19 17:47:30
Nadir Ahmad, MD, FACS