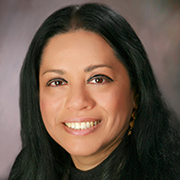 Nandini Nair, PhD, MD, FSVM, FACC, FACP
Graduation Date: 2000
India, United States
Transplant cardiologist Nandini Nair, MD '00, routinely sees the impact of her work—not only on her team's patients but their families. With a new heart, patients get a new lease on life.
"The best part about transplant cardiology is that we give many people a second chance," said Dr. Nair, the Director of Advanced Heart Failure, Transplant, and ECMO Services at Texas Tech University Health Sciences Center. "Some of them have kids who go on to college, and our patients have been able to see all those good things happen. As a physician, it feels good to provide this service and the opportunity to deliver advanced cardiac care for members of our community."
Dr. Nair was born in India but lived throughout Africa growing up, residing in Ghana, Cameroon, Nigeria, and finally Tanzania, where she graduated high school. She went on to earn her Bachelor of Science and Master of Science in zoology from the University of Madras in India, and then her Doctor of Philosophy (PhD) in biochemistry from the Indian Institute of Science in Bangalore, one of the premier institutes in Asia for training scientific and engineering professionals. Subsequently, she moved to the United States for her postdoctorate fellowship in molecular virology at UMass Medical Center, pursuing a full-time career in basic science research.
In the interim, her mother's untimely death secondary to an iatrogenic error redirected her career focus to medicine. Armed with a strong medical background and competitive Medical College Admission Test (MCAT) score, Dr. Nair enrolled at SGU. In Grenada, Dr. Nair dived into her studies, spending countless hours in the library with her colleagues as they reviewed the coursework and prepared for the all-important United States Medical Licensing Examination (USMLE). In her spare time, she and friends enjoyed the island's restaurants and beaches.
"I really owe everything to SGU," Dr. Nair said. "Without SGU, I would not have reached where I am today, and I've seen several of my classmates do extremely well also. I am very proud of all of their achievements too."
Following two basic science years and clinical rotations, Dr. Nair matched at Drexel University's internal medicine residency program, where she later completed a three-year cardiology fellowship. She then did two other fellowships—a Ruth Kirschstein National Award in Vascular Medicine under Dr. John P. Cooke, a renowned physician scientist in vascular biology and medicine at Stanford University, and a heart failure/cardiac transplant fellowship, also at Stanford, under transplant cardiology pioneer Dr. Sharon Hunt.
From 2008 to 2013, Dr. Nair served as an assistant/associate professor in the Department of Medicine at Texas A&M Health Sciences Center College of Medicine. During that time, she served as medical director at Scott & White Memorial Hospital and Clinics in Temple, Texas, before a two-year stint as the medical director of the Advanced Heart Failure/Mechanical Circulatory Support and Cardiac Transplantation unit at Providence Sacred Heart Medical Center in Spokane, Washington.
"I have always been interested in research and teaching in addition to patient care," she said. "It's great to see our residents and fellows go on to become highly esteemed physicians, conduct research, publish their own work, and distinguish themselves.  I enjoy being able to contribute to this training process."
Published August 2015
Find out if St. George's University is right for you.
https://www.sgu.edu/wp-content/uploads/2020/02/sgu-logo-grenada.svg
0
0
Erin Shaw
https://www.sgu.edu/wp-content/uploads/2020/02/sgu-logo-grenada.svg
Erin Shaw
2016-12-07 19:00:55
2021-01-21 14:18:56
Nandini Nair, PhD, MD, FSVM, FACC, FACP