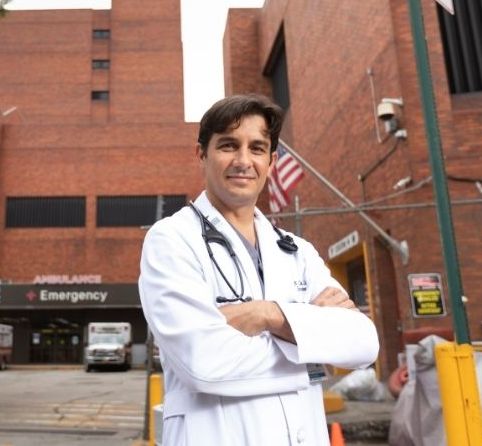 Nicholas D. Caputo, MD
Graduation Date: 2008
United States
NYC Health + Hospitals/Lincoln
Emergency Medicine
For Nicholas D. Caputo, MD '08, the associate chief of emergency medicine at NYC Health + Hospitals/Lincoln in the Bronx, investigating diseases like COVID-19 to learn more about their origins and health effects has allowed his team to more effectively care for critically ill patients that come through the busy hospital's emergency room.
Dr. Caputo, along with colleagues, have published multiple articles in various medical journals and based on their experiences and patient encounters within the ER, including several related to findings about the COVID-19 disease.
For instance, in the spring of 2020, the team published the first study on awake self-proning for COVID-positive patients as a means to stave off intubation, according to Dr. Caputo. The study was published in Academic Emergency Medicine (the official publication of the Society for Academic Emergency Medicine) and cited in The New York Times.
Earlier this year, his team published the only reported outcomes data for the New York City public hospital system in the Journal of General Internal Medicine, which had some "gut-wrenching findings in regard to inequities and disparities in COVID outcomes," he said.
Sharing the correlation between research and emergency medicine, and specifically how it helps him approach his job every day, were among the topics that Dr. Caputo spoke with SGU News about in a recent interview.
SGU: How do you apply findings from your research to your role as an EM doctor?
Dr. Caputo: Research allows me to go into each shift with a different perspective. On the one hand, it allows me to deliver care to patients with the mindset of treating their individual situation based on what we know from previous research findings. On the other hand, it also allows me to take those patient interactions and formulate hypotheses about broader issues that other ER doctors may encounter and ultimately help advance the emergency medicine specialty.
SGU: What lessons have you learned from the global health crisis that can be applied to ongoing patient care?
Dr. Caputo: The most important lesson I learned is that a good scientist always keeps an open mind in the pursuit of truth. Keeping an open mind allows one to critically think outside the box, which may lead to a better solution to treatment—and a positive outcome for the patient.
SGU: What appeals to you about emergency medicine?
Dr. Caputo: The biggest appeal to me in emergency medicine is that on any given shift—no matter where you are working—you have the potential to see anything across the spectrum of medical pathology. That's the great thing about emergency medicine—we truly see it all.
SGU: What responsibilities do you have as associate chief of emergency medicine?
Dr. Caputo: In this position, I help coordinate the daily operations of the emergency department, and oversee the quality review process, performance improvement, and research, among other necessary roles to help ensure the department runs smoothly so we can deliver the highest quality of care, safely to our community.
SGU: You are also an Army Reservist—how does your medical background help you when you are called up for service?
Dr. Caputo: My working in a Level 1 Trauma Center in one of the busiest single-site emergency departments in the country has provided me the experience I need to treat our soldiers on the battlefield who have similar if not even more devastating traumatic injuries. That's one of the things I am most grateful for in working where I work.
SGU: How did SGU help prepare you for your current hospital role?
Dr. Caputo: SGU gave me the drive to want to do more—to stand out by showing up early, leaving late, and doing research on my own time in order to better myself.
SGU: What was the moment that you realized you'd made the right decision to come to SGU?
Dr. Caputo: When I matched in the specialty I wanted at the place I wanted for residency and where I still work today.
SGU: What if you hadn't said yes to SGU?
Dr. Caputo: I don't really want to think about that!
Find out if St. George's University is right for you.
https://www.sgu.edu/wp-content/uploads/2020/02/sgu-logo-grenada.svg
0
0
lchartor
https://www.sgu.edu/wp-content/uploads/2020/02/sgu-logo-grenada.svg
lchartor
2021-08-03 20:05:46
2021-08-03 20:05:46
Nicholas D. Caputo, MD