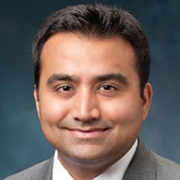 Parin Makadia, MD
Graduation Date: 2007
India
In 2002, Parin Makadia, MD '07, had lived at home all his life—through his upbringing in India and then during his undergraduate and graduate years in New Jersey. Thus, when it came time to pack up and move to Grenada for his first term at St. George's University School of Medicine, he was apprehensive about what lay ahead.
Now a nephrologist with Dallas Renal Group (DRG) in Texas, Dr. Makadia is thankful for the education he received, the people he met, and the new culture he experienced during his time on the Spice Isle.
"When you get to Grenada, right from the get-go you meet people and a very strong bond is formed," he said. "It becomes a very solid support structure and comes to a point where you don't even feel like you're away from home. It's one of the reasons I am in the position I am in today. The strong friendship that my friends and I created on the island is invaluable."
He is part of a practice that 10 years ago was comprised of just two physicians but has grown into a 19-physician group. Together they treat a wide range of renal disorders, from kidney disease and kidney stones to hypertension and electrolyte disturbances.
DRG is looking to expand even more in the coming years. Dr. Makadia hopes to draw from both his areas of expertise—medicine and business—to help the practice accomplish that goal. He earned his Master of Business Administration from Seton Hall University in 2002. Dr. Makadia encourages current and future physicians to bolster their business backgrounds for that reason.
"It's important for doctors to understand the language of business, and to know ways to market and network and make things more efficient," Dr. Makadia said. "The processes that I learned in business school have definitely helped me position myself within my group itself. I feel more comfortable making certain business decisions that are key to our success."
He credits St. George's University for his own development as a doctor. His impression of the University was only confirmed by the many of his Seton Hall colleagues, who had enrolled at SGU while he attended business school.
"The reason I chose St. George's University and why it was my first choice is the solid track record of producing successful physicians, students' success in the USMLE, and favorable residency and fellowship results," Dr. Makadia said.
After his two basic science years in Grenada, he completed his clinical rotations at St. Joseph's Regional Medical Center in New Jersey before his residency and nephrology and hypertension fellowship at the University of Medicine & Dentistry of New Jersey (UMDNJ).  The collective experience set him up to join Dallas Renal Group in August 2012.
With a growing number of renal disease cases nationwide, particularly those related to hypertension, Dr. Makadia looks forward to addressing those issues in a clinical setting. He also tackles medicine over the airwaves, joining another SGU grad, Samir Nangia, MD '06, in hosting a weekly radio show titled "Doc Talk Live" on an area radio station and DocTalkLive.com. The SGU duo welcomes area specialists to talk about a variety of pertinent medical topics while also taking listeners' phone calls.
Even if medicine wasn't the original plan, Dr. Makadia says that there's nothing he would rather be doing than helping those in his community. He's proud to say that his career took flight at St. George's University, his home away from home.
"My experience at SGU was nothing but positive."
Published March 2015
Find out if St. George's University is right for you.
https://www.sgu.edu/wp-content/uploads/2020/02/sgu-logo-grenada.svg
0
0
Erin Shaw
https://www.sgu.edu/wp-content/uploads/2020/02/sgu-logo-grenada.svg
Erin Shaw
2016-12-07 19:12:45
2021-01-21 16:51:57
Parin Makadia, MD