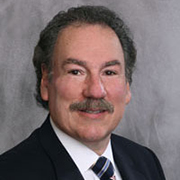 Paul Vallone, MD
Graduation Date: 1981
United States
For nearly 25 years, Paul Vallone, MD '81, owned and operated a cosmetic surgery practice that had three locations throughout the State of New Jersey. He retired in 2009 but has immersed himself in a new career—mayor of the Borough of Far Hills in New Jersey—that has him utilizing the same skills he learned as a medical student and professional.
"When you go to medical school, you're taught to be thorough, to analyze, interpret a problem, gather facts, and then make a decision," Mayor Vallone said. "You act in the best interest of the patient. The qualities you acquire in medical school and through your residency work hand in hand with politics. You're really doing a diagnosis of a problem affecting a community, and as a politician, it's incumbent upon you to gather the facts, weigh the pros and cons, and decide on what is the best option."
"It's also very clear to me that medicine is not an island unto itself," he added. "It is affected by the politics around us greatly.
Mayor Vallone enrolled at St. George's University School of Medicine as part of its charter class. He completed his general practice residency at Brooklyn Hospital before accepting a two-year plastic surgery fellowship at Saint Barnabas Medical Center in Livingston, NJ.
"The St. George's experience was one of the greatest in my life; I wouldn't trade it for anything," Mayor Vallone said. "The four years at St. George's certainly helped me grow as a person because it teaches you to be collaborative and it gives you a bigger, broader picture of what the world is."
In 1986, he opened his own practice, Paul J. Vallone, MD, Plastic and Reconstructive Surgery, where he performed cosmetic and reconstructive surgery for 23 years. During that time he also served as chairman of the Department of Plastic Surgery at St. Clare's Hospital in Denville, NJ, and chief of surgery at Newton Hospital in Newton, NJ.
Mayor Vallone's first foray into politics came when he was elected to the Far Hills (NJ) Borough Council in 2010. Later that year, he ran for mayor of Far Hills, a community of 919 residents according to the 2010 United States Census, and received 94 percent of the vote.
"I'm proud that people voted for me and believe I'm the best person for the job," said Mayor Vallone, who also serves on the Legislative Committee for the State of New Jersey. "It's a job that brings many new and different challenges, and as a result of that, it makes you grow as a person. As you go through life, from one career to another, the ultimate thing is to continue to grow as a person, to continue to interact with the people in the community, and to do something for the benefit of the community.
He also said that should an opportunity to run for a higher office, whether for New Jersey General Assembly or the State Senate, arise in the future, he would entertain it.
"There are a lot of moving parts with that kind of decision and a lot of additional commitments, but if the opportunity presents itself to move to the next level, I would consider it without question," Mayor Vallone said.
He will always take with him the international education and experience he received at St. George's University.
"St. George's enhanced my ability to see the bigger picture, to listen to people better and to process different points of view," Mayor Vallone said. "In medicine, that is invaluable because it gets you to think outside the box. There are the common diagnoses, but maybe you have to think in a different way for a particular patient. The same can be said about situations you'll face in politics. The experience at St. George's is a tremendous growth opportunity in which students receive an excellent medical education that enhances your personal view of the world."
Find out if St. George's University is right for you.
https://www.sgu.edu/wp-content/uploads/2020/02/sgu-logo-grenada.svg
0
0
Erin Shaw
https://www.sgu.edu/wp-content/uploads/2020/02/sgu-logo-grenada.svg
Erin Shaw
2016-12-07 19:22:16
2021-02-08 16:11:08
Paul Vallone, MD