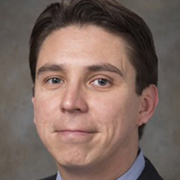 Peter Prieto, MD
Graduation Date: 2006
United States
By the time Peter Prieto, MD '06, completes his surgical oncology fellowship at the prestigious University of Texas MD Anderson Cancer Center in Houston in 2017, he will have spent more than 15 years in training between medical school, residency, and fellowships at the National Cancer Institute, and MD Anderson. However, cancer is that complex, that prevalent, and for a man who has lost his father to the disease, that important to him.
While most of his fellow SGU alumni finished their postgraduate training long ago, Dr. Prieto will have navigated "arguably the most difficult route in surgery." With the skills and knowledge he has gained, he wouldn't have it any other way.
"The path is difficult and it's long," Dr. Prieto said. "I think the fact that you still enjoy something despite it being so difficult is proof that it's something that you really love. To this day, the best treatment for curing cancer, down to every last cancer cell, is surgery, and there is no better feeling than removing a tumor from a patient's body and rendering them cancer-free."
Dr. Prieto's interest in surgical oncology stems from his father's battle with sarcoma in 1999, his senior year as an anthropology major at Stony Brook University in New York. It wasn't long before his father passed. "That motivated me to go to med school," Dr. Prieto said.
He learned of St. George's University from a family friend who had graduated from SGU. Although he hadn't been outside the country for more than 10 days, Dr. Prieto seized the opportunity to start his medical education. "SGU gave me a shot," he said. "At that point, I wasn't sure if I wanted to be a surgeon; I just knew I wanted to treat cancer."
Dr. Prieto is now in the second year of a three-year complex general surgical oncology fellowship at MD Anderson, a 654-bed facility that US News & World Report ranked as the number one adult cancer treatment center in the country in 2015, the 12th time in the last 14 years it has earned that distinction. His route there included two years in a general surgery residency program at SUNY Upstate Medical University in Syracuse, and three more years completing immunotherapy and surgical oncology fellowships at the National Cancer Institute in Bethesda, MD, where he served as associate investigator for several of the surgery branch's research endeavors under the mentorship of Dr. Steven A. Rosenberg.
At each stop, Dr. Prieto is reminded of the importance of his work. With one particular patient at NCI, melanoma had metastasized to his spine and liver. However, he and his team were able to procure tumor-infiltrating lymphocytes (TIL) from a hepatic lesion, grow them in-vitro, and prepare them for re-infusion by way of adoptive cell therapy.
"The patient's TIL grew like wildfire, yet before we could even give them back to the patient, his tumors miraculously began to melt away," Dr. Prieto said. "That showed me the power of the immune system, a spontaneous regression, which got me interested in immunotherapy of solid organ malignancies in particular."
After his NCI fellowships, Dr. Prieto went on to Yale-New Haven Hospital to complete his residency, serving as chief resident in his final year. Upon completing his training at MD Anderson, Dr. Prieto hopes to obtain a position at an academic medical center, treating mainly melanoma, endocrine, and breast cancer. Whether it's near home in the northeast or elsewhere, practicing at "the best academic center I can" is his top priority.
His journey in medicine began at SGU, and he encourages others to use the same opportunity as a launching pad to their own careers.
"If you're going abroad for your medical education, SGU without question has the best reputation. It's the only place you want to go," Dr. Prieto said.  "The people I met on campus and in class are still some of my best friends. The classes were challenging, but we were prepared to do well on the boards, and during clinicals I felt on par with students from US schools."
Published November 2015
Find out if St. George's University is right for you.
https://www.sgu.edu/wp-content/uploads/2020/02/sgu-logo-grenada.svg
0
0
Erin Shaw
https://www.sgu.edu/wp-content/uploads/2020/02/sgu-logo-grenada.svg
Erin Shaw
2016-12-07 19:33:07
2021-01-21 17:06:08
Peter Prieto, MD